Annual Conference sessions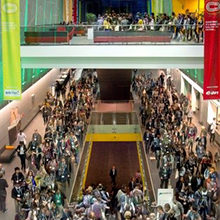 If you have an idea for a session and would like it to be included in our next Annual Conference programme, we want to hear from you. The Microbiology Society Annual Conference consists of a number of parallel sessions running for one or two days.
Session suggestions are invited from any field of microbiology. If your suggestion is accepted, the Scientific Conferences Committee (SCC) will appoint experienced session organisers to finalise the session programme.
Please check the list of recently covered topics prior to submission:

Full List of Conference Sessions 2009-2019

The Scientific Conferences Committee meets once a year to consider all suggestions submitted.
Up and coming deadlines are as follows:
Deadline for Annual Conference sessions in 2021: 16 December 2019
Deadline for Annual Conference sessions in 2022: 14 December 2020
Please download and complete the below form, and return to [email protected]:

Annual Conference session suggestion form

Further questions on submitting a Society Annual Conference session suggestion should be addressed to the Society's Conference Office at [email protected].