Prize Medal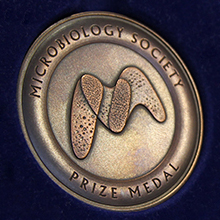 Awarded annually to an outstanding microbiologist who is a global leader in his or her field and whose work has had a far-reaching impact beyond the discipline of microbiology.
The recipient of the Prize Medal will receive £1,000 and be expected to give a lecture based on the work for which the award has been made to a meeting of the Society. The recipient will be strongly encouraged to publish the lecture in one of the Society's journals, whichever is the most suitable. This decision will be at the discretion of the Editors of the journals.
Nominations for the 2021 Prize Medal are now closed.

Please see below for a list of past winners.
Prize Medal Lecture 2019: Dr Christof Fellman on behalf of Professor Jennifer Doudna – Discovering and developing next-generation CRISPR-Cas tools