Multicoloured Microbiomes colouring book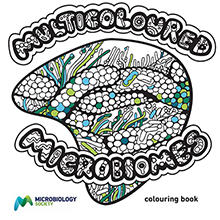 Have you ever fancied colouring in Candida, or shading Pseudomonas? If so, the Microbiology Society's new Multicoloured Microbiomes colouring book, illustrated by Microbiology Society member Eliza Wolfson, is just for you! This book is packed with pages full of bacteria, fungi, archaea, protists and viruses for you to fill in and discover the invisible world around us.
Suitable for all ages, the Multicoloured Microbiomes colouring book is available to order now for £5.00 (plus postage and handling), and is the perfect gift for the microbiologist in your life. From the inside of your fridge to the stomach of a cow, you will learn interesting facts about the different communities of micro-organisms living together while showing off your artistic flair!
To purchase a copy of Multicoloured Microbiomes, please complete the form below about your delivery details. We will then contact you with an invoice within a few days of receipt.
Postage costs are a flat rate for each category, for up to five copies:
UK: £2.50
Europe: £4.00
Rest of the world: £7.50
If you are interested in ordering more, this will affect shipping rates – please contact [email protected].
Please ensure the email address and telephone number listed above is correct as this is how we will contact you for payment.
If you have any issues with delivery, please contact [email protected].