Focused Meeting 2023 – Call for proposals now open
25 November 2021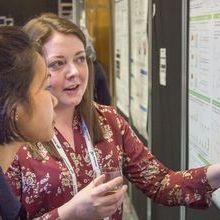 The Microbiology Society organises a varied programme of Focused Meetings each year, bringing together those with shared scientific interests to hear the latest research, form connections and collaborate with others working in particular fields of microbiology.
All Society members are welcome to submit a Focused Meeting proposal and we are currently seeking submissions for our 2023 meetings programme. The deadline for the first round of proposals is Wednesday 9 February 2022.
All proposals will be reviewed by the Society's Scientific Conferences Panel (SCP). If approved for inclusion in the Society's events programme, the meeting will be delivered in collaboration with the scientific organising committee who will lead on developing the scientific programme and the Society's Conference and Events team, who will provide full secretariat support and manage all logistical and operational aspects.
You can find out more information, see a list of previous Focused Meeting topics and access the proposal form here. If you would like to discuss your idea for a Focused Meeting or have any questions you can contact us at [email protected].