Last chance to submit abstracts for Anaerobes 2021 and Avian Infectious Diseases 2021
17 May 2021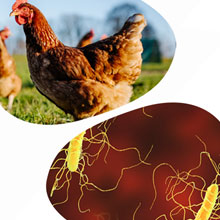 In the coming months, Anaerobe 2021 and Avian Infectious Diseases Focused Meetings will be taking place. Anaerobe 2021 is pleased to announce a call for late-breaking abstract submissions and the deadline for Avian Infectious Diseases 2021 abstracts has been extended.

Anaerobe 2021: Call for late breaking abstracts
Anaerobe 2021: the microbiota and beyond is pleased to announce a call for late-breaking abstract submissions to be presented as e-posters at the upcoming online Focused Meeting taking place online on 15–16 July 2021. Papers relating to aspects of anaerobic bacteria in human health and disease will be considered for presentation, including in the following key topics:
Gram-negative anaerobic bacterial infection
Clostridial infection and treatment
The human microbiota in health and as drivers of disease
Poster abstract submissions are open from 17 May until 7 June 2021. You can submit your abstract on the event page. Both members and non-members of the Microbiology Society are welcome to submit an abstract for the meeting.
Posters will be available for delegates to visit on the event platform, with dedicated poster hall slots in the programme for attendees to meet with presenters and discuss the research.
Registration for the meeting is open, and the full scientific programme is available to view on the event page.
Avian Infectious Diseases 2021: abstract deadline extended
Avian Infectious Diseases 2021 has extended the deadline for abstract submission, to 31 May 2021 at 17:00 BST. Abstracts from members and non-members will be considered for both offered oral and flash presentations, with the following topics welcomed:
Molecular and cell biology
Molecular epidemiology
Pathogenesis and host response
Host genetics
Host range
Control
The meeting will take place online on 15–17 September 2021 using the highly successful digital format used for the Society's Annual Conference and Focused Meetings.
Submit your abstract on the event page.
The meeting will bring together the scientific community over three days to help find solutions to the biggest challenges in avian infectious diseases.
Registration is open and you can find a programme overview for the meeting on the event page.
If you have any questions, please contact us at [email protected].
Follow us on Facebook, LinkedIn and Instagram and search the hashtag #Avian21 on Twitter for the latest updates in the lead up to the event.
---
Image: iStock/Sonja Filitiz & iStock/ Dr Microbe.