Microbiology Society Roadshows go virtual: Meet the President and network with fellow microbiologists
09 September 2020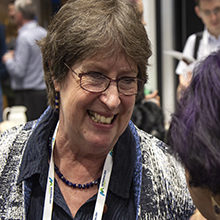 We are delighted to announce that the Microbiology Society Roadshows are moving online, helping microbiologists in local areas meet and discuss shared challenges.
The first event will be held on the 8 October for microbiologists in Manchester and the second will take place on the 5 November for microbiologists in Cardiff.
Both will offer an opportunity to meet and talk to our President Professor Judy Armitage and network with other attendees, share experiences from lockdown, and engage in career-focused discussions.
The events, which aim to bring together microbiologists from different organisations in the same local area have a limited number of spaces available in order to provide a more welcoming environment for conversations. Places are available on a first-come, first-served basis and a waiting list will be operated.
Microbiology Society Roadshow
For more information and how to register, please visit the Microbiology Society Online Roadshow 2020 - Manchester event page and Microbiology Society Online Roadshow 2020 - Cardiff event page.