Microbiology Today May 2022: Engaging Microbiology now available online
17 May 2022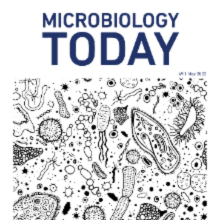 The May 2022 edition of Microbiology Today is now available to read online. This issue, titled 'Engaging Microbiology', explores engagement with the general public in microbiology outreach, as well as engaging with students when teaching microbiology.
The first featured article of this issue comes from Chloe James, who explores how the classroom has evolved with the rise of digital and online content. Chloe discusses extended reality (XR) technologies as a tool for helping students navigate vast quantities of information and visualise the invisible.
Also considering alternative learning strategies, Andrew Kirby, Jane Freeman and Alison Ledger describe the development of 'GermBugs', a character-based storytelling tool to help medical students learn microbiology and maximise recall during clinical practice.
Another challenge in higher education is the persistence of 'awarding gaps' between different demographic groups. James McEvoy discusses how ethnicity, class and gender impact undergraduate students' final grades, and makes a case for active learning approaches as a way of levelling the playing field.
Focusing on microbiology engagement in younger age groups, Linda Oyama's article journeys from her own childhood experiences of science outreach, to delivering a series of microbiology workshops for primary schools as a postdoctoral researcher and Microbiology Society Champion.
Eliza Wolfson and Lizah van der Aart then tackle science communication through art, highlighting the power of 'showing' instead of 'telling'. They discuss how constructing a narrative can help audiences engage with scientific concepts. Plus, see Eliza and Lizah's 'sci-art' in action with a comic drawn specially for Microbiology Today.
In the last featured article, Society Champion Victorien Dougnon gives his perspective on life as an academic in Benin. He describes his efforts to deliver microbiology training for undergraduate and postgraduate students, and the challenges of developing the infrastructure to do so in a lower-middle-income country.
In the Comment article for this issue, Mel Lacey reflects on the huge impact that the pandemic had on students and educators alike. This issue also contains details of the 2022 events programme, an Early Career Microbiologists' Forum update, a Member Q&A with Shakib Alhagh, a spotlight on our Education and Outreach Grant and more.