NEW microbiologyresearch.org
08 August 2019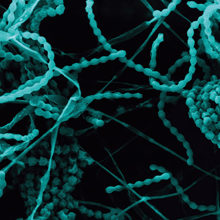 For the last year our publishing team have been working on a major project to upgrade the journal platform, microbiologyresearch.org. We interviewed the team to find out more.
Why have you upgraded microbiologyresearch.org?
Our journals are an important part of our mission to advance the understanding and impact of microbiology, both in themselves as places to publish research and through their vital financial contribution to the Society. The platform was upgraded in 2015, but we found that we were lagging behind other publishers in the quality of our online offering – for example, our old search functionality just wasn't up to scratch. By upgrading we were able to deliver a lot of new features, as well as a much better user experience.
What are some of the highlights on the new platform?
For starters the whole Society archive, covering more than 70 years and 60,000 articles, can be found at microbiologyresearch.org alongside the very latest content from our six journals. As part of our educational mission we make everything free to read after 12 months, so most of that archive is freely available. We're taking advantage of the new search functionality to delve into the archive and create special collections celebrating the Society's 75th anniversary, and we'd love to hear from members about ideas they might have for other ways to use that content.
What's next for the platform?
We decided to make the project simpler by releasing the new functionality in stages, so there is a lot more to come. One of the things we're most excited about is a new way to read articles, called Side by Side, which will be released as part of phase two. Some of our members were able to see a demo of Side by Side at Annual Conference in April and they gave us fantastic feedback about it.
How can members get involved?
Member support is vital to the continuing health of our journals. That can range from submitting articles (don't forget that members get a 30% discount on Open Access charges) to volunteering as a reviewer or editor, or simply letting their institutional librarian know they value the Microbiology Society journals. There's also the option to propose topics or authors for reviews or special collections. For more information about supporting the journals, email [email protected].
---
Image: Dennis Kunkel Microscopy / Science Photo Library.