Save the date: Annual Conference 2023
16 May 2022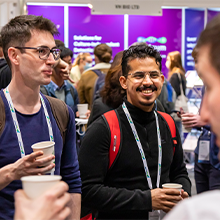 After a successful return to an in-person format for Annual Conference 2022 last month, we are delighted to announce the dates of Annual Conference 2023 taking place Monday 17 April–Thursday 20 April 2023 at Birmingham International Convention Centre.
The Conference takes place over four days and consists of scientific symposia, workshops, fora, professional development sessions, Prize Lectures, Hot Topic Lectures and much more.
The programme is currently in production with our Scientific Conference Panel and Divisions who are working across the broad range of microbiology topics and its various disciplines to deliver an exciting and cutting-edge programme. Details of the programme will be published on the event page once finalised.
Registration for this event will open on 30 September 2022 and will be open to both members and non-members. Members get heavily subsidised registration fees for Annual Conference, Focused Meetings and other Society events. Join now to enjoy these discounts and many other opportunities that are designed for microbiologists at all stages of their career.
You can see some of the highlights from Annual Conference 2022 in this short video.
Further information will be announced in the build-up to the meeting on our social media channels and you can follow us on Twitter @MicrobioSoc using the hashtag #Microbio23