Why Microbiologists Matter: one week to go
16 November 2020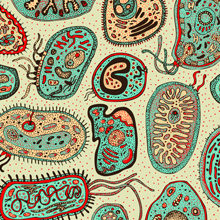 We are one week away from Why Microbiologists Matter: a digital celebration of the journeys of our members'. This is a one-week digital event series is designed to explore the impact of microbiologists' past, present and future.
Join us by streaming the week's content, which includes short lectures, panels, training workshops and debates from some of the leading scientists around the world. The events include our Fleming Prize Lecture 2020 and the Microbiology Society Outreach Prize Lecture as well as our Annual General Meeting.
You'll hear about quorum-sensing communication; palaeomicrobiology; orchestrating gene regulation; predatory Bdellovibrio sp. bacteria; the expanding virosphere and more. Content will range from viruses to bacteria to eukaryotes.
The week's activities will also span every career stage: from established senior scientists to early career microbiologists and will host the final of the Sir Howard Dalton Young Microbiologist of the Year Competition. The week will include presentations from this year's Fleming Showcase to celebrate the Society's 75th anniversary. These lectures are organised by an appointed committee of previous Fleming Prize winners, chaired by Nobel Prize winner Sir Paul Nurse, in commemoration of the Society's first president, Sir Alexander Fleming.
You'll discover the legacy of some of the past Fleming Prize winners and hear from both established and up-and-coming scientists in addressing current challenges such as food security, global warming and antimicrobial resistance through microbiology.
Learn more about what you can expect at the event and register to attend on the event page.
Further information will be announced in the build up to the meeting on our social media channels and you can follow us on Twitter @MicrobioSoc.
---
Image: Avizeet Halder.