Antimicrobial Resistance in Aquaculture

The Microbiology Society is undertaking a project entitled A Sustainable Future as part of our 75th Anniversary, which aims to highlight the Sustainable Development Goals (SDGs) to our members and empower them to use their research to evidence and impact the goals. Earlier this year, we put a call out to our members to submit case studies in the following three areas: antimicrobial resistance, soil health and the circular economy.
This case study is written by Dr Kelly Thornber, who is a Postdoctoral Researcher at the University of Exeter and a member of the Microbiology Society. It focuses on antimicrobial resistance; a naturally occurring process, whereby micro-organisms (bacteria, viruses, fungi and parasites) can change and adapt over time, either by modifying the target of the antimicrobial, or by developing and exchanging resistance genes.
What are the challenges/needs that this research/initiative addresses?
My research focuses on the aquaculture industry, which poses a significant and largely unrecognised risk to global antimicrobial resistance (AMR) dissemination [1]. Aquaculture is the fastest growing food production sector internationally (worth US $143billion in 2016), with production predominantly based in low- and middle-income countries (LMICs) in Asia [2]. The industry is currently undergoing rapid intensification in order to meet global demand for animal protein, yet for the most part this is not sustainable.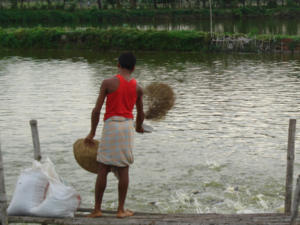 For the past four years, my colleagues and I have been working closely with partners in Bangladesh, where the aquaculture industry sustains the livelihoods of 15 million people [3] and provides over 60% of the population's dietary animal protein [4]. Aquaculture farmers, many of whom are smallholders, are faced with deteriorating water quality, increasing levels of disease and decreasing profit margins, and therefore depend on chemical treatments such as antibiotics in order to protect their livelihoods. Like many other LMICs, antimicrobials are available over the counter in Bangladesh, and are widely and indiscriminately used in most sectors of aquaculture production.
Resources are limited, and so there is little regulation of antimicrobial quality, sales and usage, and aquaculture farmers have minimal access to diagnostic facilities to ensure appropriate application. Waste water is released directly from ponds into the local environment, often in an untreated state. Furthermore, Bangladesh is increasingly affected by climate change, with regular flooding events and increasing temperatures, adding to the dissemination of pathogens, resistance and antimicrobial pollution.
What findings and solutions were provided by this research/initiative?
Our work, at the Centre for Sustainable Aquaculture Futures at the University of Exeter, is looking at several approaches. In close partnership with colleagues at WorldFish, Bangladesh Agricultural University, ARBAN and the Food and Agriculture Organisation of the United Nations (FAO) in Bangladesh, my colleagues and I have been collecting data on the drivers, attitudes, knowledge and behaviours towards antibiotic usage, as well as evidence of AMR gene carriage in aquaculture environments.
We have piloted the use of digital communication materials on AMR in aquaculture, and we are working with farmers to improve the uptake of biosecurity best management practices. We are investigating interventions targeted at farm supply shops, to improve the dispensing of antibiotics and advice on their usage.

We also work in close partnership with the UK Government's Centre for Environment, Fisheries and Aquaculture Science, who have received Fleming Funding to establish an AMR Reference Centre, and who are working with Bangladeshi partners to build capacity and develop AMR surveillance across Bangladesh. Thus, our approach is intersectoral, transdisciplinary and multi-faceted.
How can this research/initiative support the transition to a more sustainable future?
With aquaculture being hailed as an important part of the solution to our future global protein requirements [5], it is essential to ensure that the growth of this rapidly growing food sector is sustainable. Mitigating for the risks associated with AMR in aquaculture will therefore not only help to address the global public health threat of AMR but will also be critical for maintaining future food security.
References
[1] Thornber K, Verner-Jeffreys DW, Hinchliffe S, et al. Evaluating antimicrobial resistance in the global shrimp industry. Rev. Aquac. 2019;1–21.
[2] FAO. The State of World Fisheries and Aquaculture 2018 - Meeting the sustainable development goals. FAO. 2018.
[3] Department of Fisheries, Ministry of Fisheries and Livestock, Government of Bangladesh D. National Fish Week 2019 Compendium (in Bengali). 2019.
[4] Department of Fisheries, Ministry of Fisheries and Livestock, Government of Bangladesh D. Yearbook of Fisheries Statistics of Bangladesh, 2017-18. Fisheries Resources Survey System (FRSS). 2018.
[5] Godfray HCJ, Beddington JR, Crute IR, et al. Food security: The challenge of feeding 9 billion people. Science (80-. ). 2010.
---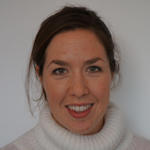 About the author
Dr Kelly Thornber is a Postdoctoral Researcher at the University of Exeter and a member of the Microbiology Society. More information about her work is available here.