Savage Dawns: how two novel antibiotics woven from Middle Welsh poetry can bring storytelling to synthetic drug development

The Microbiology Society is undertaking a project entitled A Sustainable Future as part of our 75th Anniversary, which aims to highlight the Sustainable Development Goals (SDGs) to our members and empower them to use their research to evidence and impact the goals. Earlier this year, we put a call out to our members to submit case studies in the following three areas: antimicrobial resistance, soil health and the circular economy.
This case study is written by Dr Ben Thomas, who is a Postdoctoral Researcher at Queen's University (and a Visiting Researcher at Aberystwyth University). It focuses on antimicrobial resistance; a naturally occurring process, whereby micro-organisms (bacteria, viruses, fungi and parasites) can change and adapt over time, either by modifying the target of the antimicrobial, or by developing and exchanging resistance genes.
The rise of antimicrobial resistance (AMR) is predicted to cause 10 million deaths annually by 2050 necessitating novel approaches for developing new drugs, while ensuring their appropriate use and effective communication of the underlying science to the general public. Antimicrobial peptides (AMPs) are a class of diverse, naturally occuring molecules gaining popularity as a source of novel antibiotics. AMPs are arguably the most widespread system of natural antimicrobial defense, present in virtually every class of life, from unicellular to multicellular organisms including bacteria, archaea, fungi, plants, insects, amphibians, fish, reptiles and mammals.
These short peptides are generally represented as strings of letters representing amino acids, each of which are fundamental to their antimicrobial activity, and can be easily characterised, visualised and synthetically synthesised for in vitro testing against pathogens. In a reductive sense the process of discovering new and novel AMPs could be likened to a pattern-matching problem of finding the best ordering of a small selection of letters (amino acids) over a short run of text (peptides). This facillitates a linguistic approach where we can take a block of text and examine words, sentences or phrases for antimicrobial potential. These AMPs would be still be synthetic but could convey an informative and engaging narrative of drug discovery.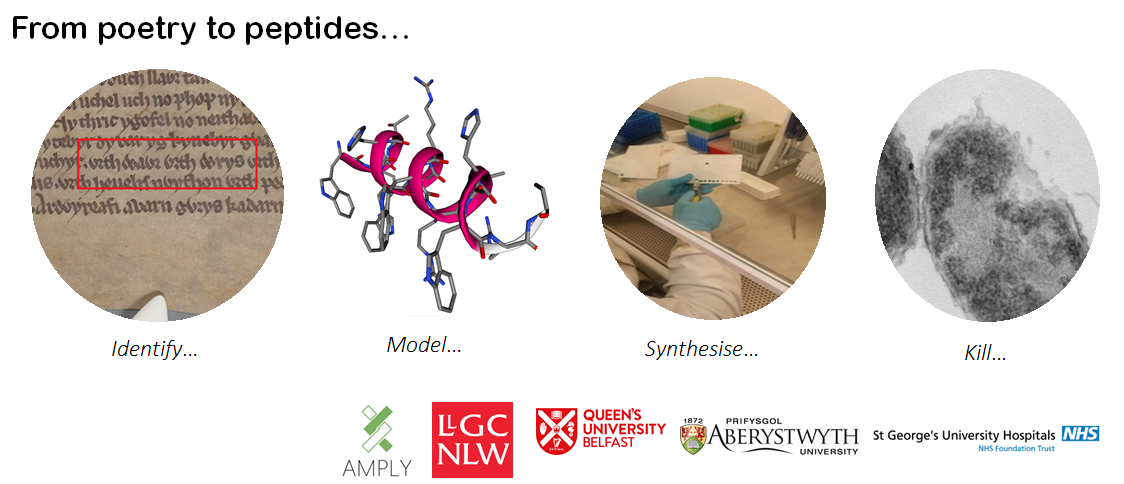 To further public engagement of this important topic, we leveraged this concept to develop our "Savage Dawn" peptides. Two bioactive AMPs: Taliecin-1 and Taliecin-2 were designed by mining text strings in The Book of Taliesin, a historically significant Welsh poetry collection dating from the first half of the 14th century. This was a unique cross-disciplinary biocultural project performed in association with the National Library of Wales. These peptides are entirely novel yet their computational prediction, synthetic generation and testing in vitro against a wide panel of both Gram-positive and Gram-negative bacteria important in human disease, such as MRSA and Acintobacter baumanii form a unique story of discovery. The killing potential and low toxicity of these peptides matches or exceeds the performance of regularly published AMPs in leading journals in the field. Our innovative approach, blending literature and technology, has been leveraged to add a layer of public and media engagement and science outreach to the novel drug design we do. Both peptides were released via creative commons at the Microbiology Society Conference in Belfast in 2019 and are free to use for research, teaching and science communication to the public.
This innovation is part of our wider work to discover and develop new and exciting bioactive peptides. A collaborative project across Queen's University, Belfast, Aberystwyth University, Wales and St. George's University Hospital in London, our tool "AMPLY" can process multiple digital biological datasets (from genomic to meta-omic) and present a cloud of predictive information to the user in a dashboard view via its proprietary "Bitpad". Users can then make descisions based on AMPLY's modelling to target and select novel functional peptides. Combining this combination of humanistic and machine learning-based approaches with rapid peptide synthesis techniques and comprehensive lab-based validation allows the production of hundreds of novel effective compounds in weeks, rather than years, with multiple academic or commercial routes to advancement. Ultimately, AMPLY's combination of machine learning, peptide synthesis and bioinformatics provides a solution-driven, extremely sophisticated approach, to locating next-generation drug candidates to combat AMR and heralds an exciting new phase in practical applied bioinformatics.
---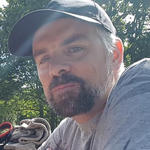 About the author
Dr Ben Thomas is a Postdoctoral Researcher at Queen's University (and a Visiting Researcher at Aberystwyth University). More information about his work is available here.