Searching for a Sustainable Solution to the Seaweed Inundations on Caribbean Beaches

The Microbiology Society is undertaking a project entitled A Sustainable Future as part of our 75th Anniversary, which aims to highlight the Sustainable Development Goals (SDGs) to our members and empower them to use their research to evidence and impact the goals. Earlier this year, we put a call out to our members to submit case studies in the following three areas: antimicrobial resistance, soil health and the circular economy.
This case study is written by Dr Debbie Bartlett, Principal Lecturer in Environmental Conservation at the University of Greenwich. It focuses on the circular economy; an alternative to a traditional linear economy (make, use, dispose), in which we keep resources in use for as long as possible, extract the maximum value from them while in use, then recover and regenerate products and materials at the end of each service life.
What are the challenges/needs that this research/initiative addresses?
This article describes the collaboration between the University of Greenwich, the Chartered Institute of Ecology and Environmental Management's (CIEEM) Overseas Territories Special Interest Group, and the School for Field Studies and the Department of Environment and Coastal Resources, Turks and Caicos Island Government – enabled by funding from Department for Environment, Food and Rural Affairs (DEFRA), under the Darwin Plus initiative.
The aim is to tackle the massive inundations of seaweed on beaches that has occurred throughout recent years, impacting on the Caribbean's white sandy beaches – a beloved token of tourism brochures. It is not only unsightly, but there is a distinct whiff of rotten eggs as it decays, leading to health concerns. Hotels, tourism resorts and beach-based tourism, have had to remove the material, which can arrive in vast quantities with each tide. There are significant labour costs and disposal is an issue.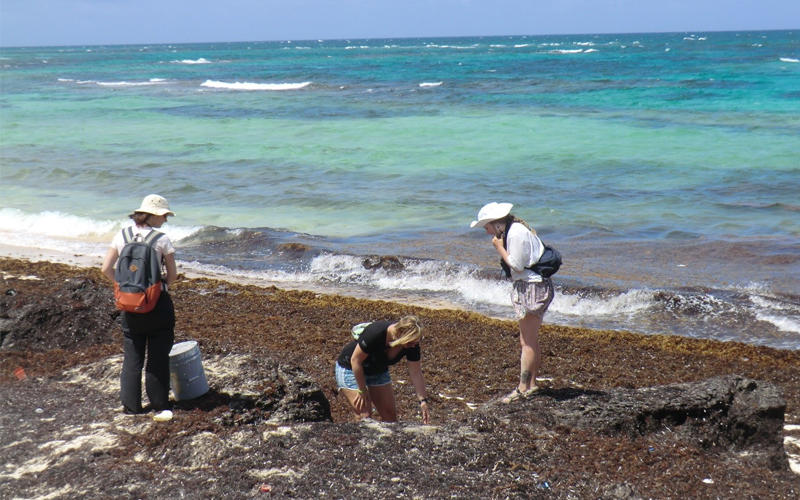 How can this research/initiative support the transition to a more sustainable future?
The origin of this project lies in the work on the valorisation of seaweeds, carried out by the Algae Biotechnology Research Group at the University of Greenwich, who have investigated the feasibility of commercial exploitation of other marine macro and microalgae for food, pharmaceuticals and fuel.
When the Sargassum inundations in the Caribbean first became widely publicised, this group published a paper titled 'Golden tides: Problem or golden opportunity?' (Milledge & Harvey, 2016). The project aims to:
Determine the impact Sargassum is having on the environment, local people and businesses
Find out how much how much is arriving on the beaches and if there is any seasonal pattern
Analyse the chemical composition to assess potential use
The potential for biofuel is of particular interest to the Turks and Caicos Islands, which currently depend on imported petrochemicals for electricity generation. Composting is another possibility as little food is grown on the islands. Across the region many different uses have been found for Sargassum, for example making products such as shoes, plates and building material; but these are small scale niche markets, and are unlikely to provide a cost effective (or at least cost neutral) solution to the problem.
What findings and solutions were provided by this research/initiative?
Fundamental to developing a commercial use for the material is determining how much is available, and whether this is consistent throughout the year. It also depends on the level of contamination with other organic/inorganic matter and the chemical composition. The project is currently at the halfway point, and progress to date includes:
Production of a report on the impact of Sargassum based on 100 interviews with locals
Completion of two MSc research projects
Discovering that the Sargassum is one of three different morphotypes (and it cannot be assumed these will have a similar composition and properties)
Taking samples to determine the level of contamination with organic and inorganic material
Developing ID sheets to enable schools to get involved in sorting the Sargassum into the three types affecting the islands
Monitoring of Sargassum deposition and seasonality
Chemical analysis of initial samples brought back to the university laboratories
What is the future for research and innovation in this area?
The first laboratory results have been published (Milledge et al 2020), but more samples are needed before being able to determine if there is potential for Sargassum to have viable commercial use for deposition on beaches. We are sharing the results with others working on this issue across the
Caribbean and are hopeful of success within the remaining year of this project.
References
Milledge, J.J. and Harvey, P.J. (2016). Golden tides: Problem or golden opportunity? The valorisation of Sargassum from beach inundations. Journal of Marine Science and Engineering, 4(3): 60. Available at https://www.mdpi.com/2077-1312/4/3/60. Accessed 6 January 2020.
Milledge J J Maneein S, Arribas López E & Bartlett D (2020) Sargassum Inundations in Turks and Caicos: Methane Potential and Proximate, Ultimate, Lipid, Amino Acid, Metal and Metalloid Analyses Energies 2020, 13(6), 1523; https://doi.org/10.3390/en13061523
---
About the Author
Dr Debbie Bartlett is Principal Lecturer in Environmental Conservation at the University of Greenwich. More information about her work is available here.