Harnessing natural bio factories against deadly soil fungal pathogens of potato seed tubers: Bacillus subtilis

The Microbiology Society is undertaking a project entitled A Sustainable Future as part of our 75th Anniversary, which aims to highlight the Sustainable Development Goals (SDGs) to our members and empower them to use their research to evidence and impact the goals. Earlier this year, we put a call out to our members to submit case studies in the following three areas: antimicrobial resistance, soil health and the circular economy.
This case study is written by Dr Touseef Hussain, a Postdoctoral Researcher in the Department of Botany at Aligarh Muslim University, India. It focuses on Soil Health; maintaining the health of our soils has gained increasing prominence in recent years. Soils are essential for the global food system and regulate water, carbon and nitrogen cycles but are put under pressure from population growth and climate change.
What are the challenges that this research addresses?
Potato (Solanum tuberosum L.) is becoming an increasingly important non-cereal food crop in the world, and it is necessary to control diseases that cause loss of yield and decrease farmers' incomes. Various fungicides are used to control fungi on tubers, but these can have adverse effects on soil fertility, and there are human and animal health concerns associated with residues from the chemical application. There is, therefore, an urgent need to identify alternative and non-toxic control approaches. Biological control is emerging as a promising alternative to chemical control methods; it provides an effective and environmentally sound approach to the management of fungal pathogens. Most of the pathogens have a very long soil phase and potato tubers are the worst affected.
In India, potatoes are grown in different agricultural zones in different seasons and are affected by a number of pathogens. Late potato blight is caused by Phytophthora infestans, potato black scurf due to Rhizoctonia solani, and Dry tuber rot due to Fusarium spp. All these fungal pathogens have major limiting factors in the healthy production of seed tubers, causing severe economic losses in both seed production quality and table potato consumption quality, leading to severe economic loss in the market.
People are focusing more on organic production rather than chemical production in developed and developing economies. Biosurfactant-producing microbes are attracting more attention in the field of agricultural research, due to their low toxicity, mode of action, ease of preparation and applications. These biological molecules that reside within these microbial factories maintain their activity under extreme conditions of temperature, pH, and salinity.
What findings and solutions were provided by this research?
I have collected residual waste oil-contaminated soils at a motorcycle workshop at Aligarh, Uttar Pradesh in the year 2018. I isolated 12 bacteria to identify a potential new biosurfactant-producing strain. Only one bacterial strain, ALIG-01, exhibits very significant results that are biochemical, morphological (Gram-positive, rod-shaped). This has been identified using 16S rRNA (Bacillus firmus Hussain: Lab.66 (LC385949)) and identified up to the genus level using the Bergey`s manual.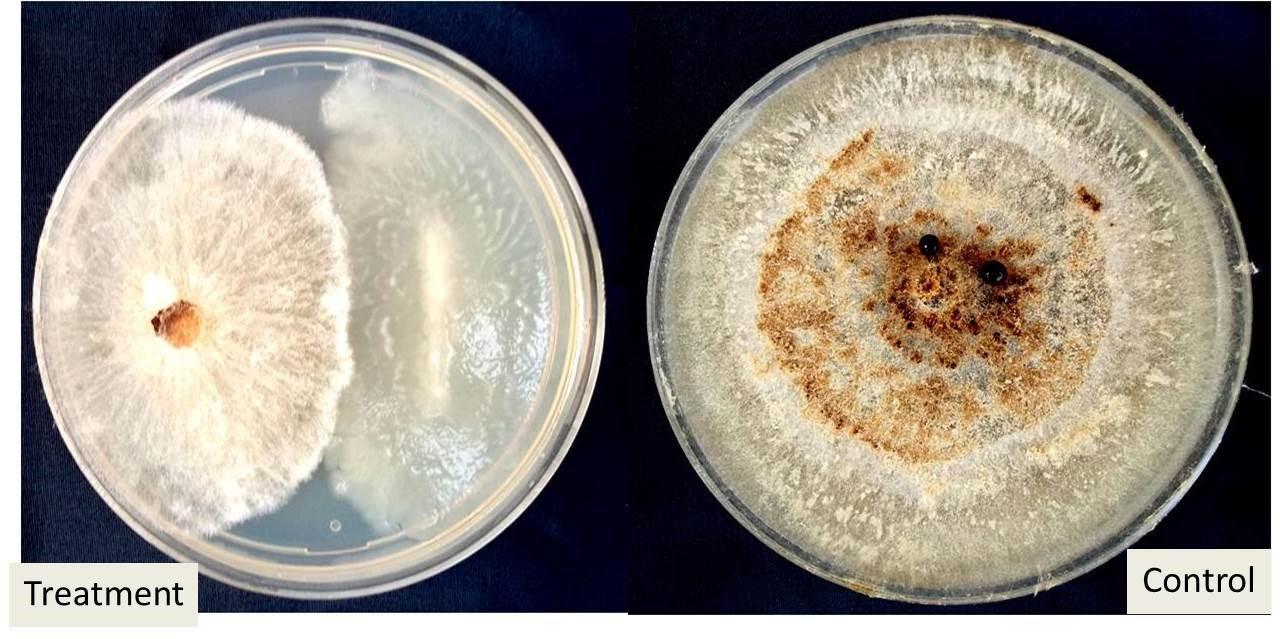 The culture filtrate collected from the bacteria suspension has shown very promising results in all preliminary in vitro screening tests. Hemolytic activity, an oil spreading assay and the emulsification index showed positive results and further analysis was done to determine their antifungal activity against Phytophthora infestans, Rhizoctonia solani and Fusarium spp. This ALIG-01 strain demonstrated very good biosurfactants, as well as good biocontrol activity against three fungal pathogens tested in a dual culture test, preventing mycelial growth in a tuber slice study. The mixture of volatile compounds from the ALIG-01 antagonist strain has demonstrated remarkable antifungal activity and indicates that the new biosurfactant strain may contain several biological metabolites that can contribute to the development of new ecologically safe farming practices.
How can this research support the transition to a more sustainable future?
Our study indicates that there are tremendous applications of these types of biomolecules in various industries, such as: the production of new biological formulations, protection of the environment, safe protection of soil health and beneficial microbes, biomedical industries, antimicrobial and other areas. More detailed research is needed to justify its use as a biological control agent and reduce the use of chemical fungicides. This new possibility of producing naturally obtained lipopeptides may reduce environmental pollution caused by synthetic agrochemicals, achieving the goal of sustainable development and improved nutritional food security.
What is the future for research and innovation in this area?
Biocontrol activity by strain ALIG-01 may be responsible for the production of non-volatile antifungal compounds that induce antimicrobial or systemic resistance mechanisms, as indicated by the results in our study and the evaluation of the effective ability of colonization in potato tubers in our previous study. Further studies will be required to identify the major volatile compounds responsible for fungal mycelium suppression, to facilitate the understanding of related processes and to develop an effective and applicable method to control the deadly fungal pathogens of the potato tuber seed industry. Financial grants assistance, equipment and trained manpower from funding agencies will enable next-level studies in the greenhouse and in multi-location field studies, to demonstrate their effectiveness in reducing disease. Increased biosurfactant yield and reduced production costs remain the most essential factors affecting the efficiency of the bioactive production process. If all these problems are resolved, then more research beneficial to farming communities may be possible.
Acknowledgements
I am very thankful to the Science and Engineering Research Board (SERB) and the Department of Science and Technology (DST) Government of India, New Delhi, for providing a financial grant under the File No. PDF/2016/001409/LS and Department of Botany at Aligarh Muslim University, Aligarh, Uttar Pradesh, India for all the laboratory facilities and infrastructure support. I am also thankful to my mentor Professor Abrar Ahmad Khan for providing his full support through my postdoctoral program.
---
About the Author
Dr Touseef Hussain is a Post-Doctoral Researcher at Aligarh Muslim University, India. More information on his work is available here.