The use of indigenous micro-organisms in the sustainable farming of Amaranthus hybridus

The Microbiology Society is undertaking a project entitled A Sustainable Future as part of our 75th Anniversary, which aims to highlight the Sustainable Development Goals (SDGs) to our members and empower them to use their research to evidence and impact the goals. Earlier this year, we put a call out to our members to submit case studies in the following three areas: antimicrobial resistance, soil health and the circular economy.
This case study is written by Oluwatosin Ajibade, who is a lecturer in the Department of Microbiology, and Professor Olubukola Monisola Oyawoye who is a Professor of Microbiology and Dean of the Faculty of Science at Adeleke University, Ede, Nigeria. It focuses on Soil Health; maintaining the health of our soils has gained increasing prominence in recent years. Soils are essential for the global food system and regulate water, carbon and nitrogen cycles but are put under pressure from population growth and climate change.
What are the challenges that this research addresses?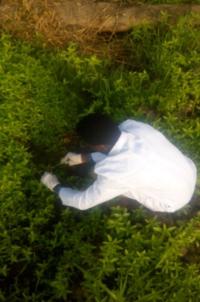 By 2050, the world's population would have increased to nine billion people. Developing countries will constitute 7.9 billion of the total population (UNFPA, 2013). A major pressure the world will face, is feeding the ever-growing population. Farmers presently employ the use of chemical fertilisers to improve plant yields, in order to meet the needs of a growing population. Excessive use of chemical fertilisers is a threat to sustainable agriculture (Lee et al., 2019). They have also been implicated in the cause of numerous cancers and the release of greenhouse gases, that ultimately leads to climate change (Ajibade et al., 2019). Hence, there is an urgent need to devise means of improving plant yields in an eco–friendly manner. The present study seeks to improve the yield of Amaranhus hybridus, a vegetable common in Nigeria and other West African countries, through the use of plant growth promoting rhizobacteria (PGPR).
Seeds of Amaranthus hybridus were procured from the National Institute of Horticulture Research and Training (NIHORT). Indigenous bacteria were isolated from farmlands in Ede, Osun State, Nigeria. Seeds were treated with bacterial suspension (Saleemi et al., 2017).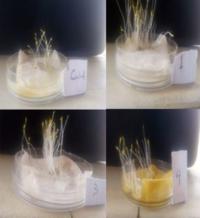 How can this research support the transition to a more sustainable future?
The use of plant growth promoting rhizobacteria is a sure way of achieving a more sustainable future. Using PGPR's in the form of biofertiliser, will eliminate the release of poisonous gases and greenhouse gases into the environment while improving plant yields.
What is the future for research and innovation in this area?
As nations of the world seek a better environment, there will be an increasing rate of research into growing food crops using methods other than the earth-damaging fertiliser. In the future, biofertilisers made of PGPR's will be the norm in the process of growing food crops.
References
UNFPA. Division of the United Nations Department of Economic and Social Affairs. 2013; United Nation Population Fund; http://unfpa.org/ public/. [accessed: 13.05.2020]
Ajibade O.A., Ike F. & Oyawoye O.M. (2019): The Inglorious Link Between Cancer and Agrochemicals: A Systematic Review. Journal of Digital Innovations & Contemp Res. In Sc., Eng & Tech. Vol. 7, No. 3 Pp 67-76
Lee, K, Adhikari, A, Kang, S, You, Y 2, Gil-Jae Joo, G, Kim,J, Kim,S and Lee, I (2019). Isolation and Characterization of the High Silicate and Phosphate Solubilizing Novel Strain Enterobacter ludwigii GAK2 that Promotes Growth in Rice Plants. Agronomy 2019, 9, 144; doi:10.3390/agronomy9030144
Saleemi, M; Kiani, M.Z; Sultan, T; Khalid, A and Mahmood,S (2017). Integrated effect of plant growth‑promoting rhizobacteria and phosphate‑solubilizing microorganisms on growth of wheat (Triticum aestivum L.) under rainfed condition. Agric & Food Secur (2017) 6:46 DOI 10.1186/s40066-017-0123-7
---
About the Author
Oluwatosin Ajibade is a lecturer in the Department of Microbiology at Adeleke University, Ede, Nigeria. For more information on his work please contact: [email protected]