The role of microbes in plant adaptation to rising soil salinity

The Microbiology Society is undertaking a project entitled A Sustainable Future as part of our 75th Anniversary, which aims to highlight the Sustainable Development Goals (SDGs) to our members and empower them to use their research to evidence and impact the goals. Earlier this year, we put a call out to our members to submit case studies in the following three areas: antimicrobial resistance, soil health and the circular economy.
This case study is written by Gareth Raynes, who is a PhD Researcher at Aberystwyth University, UK, and a member of the Microbiology Society. It focuses on Soil Health; maintaining the health of our soils has gained increasing prominence in recent years. Soils are essential for the global food system and regulate water, carbon and nitrogen cycles but are put under pressure from population growth and climate change.
What are the challenges that this research addresses?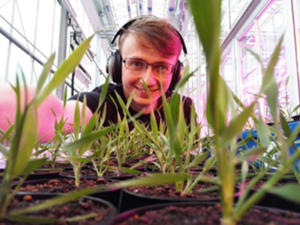 The human microbiome is becoming more and more widely known; it's in the news, on TV and products from foods to skincare claim to impact upon it. But humans aren't alone in having microbiomes, nor are animals. Plants have really interesting associations with microbes too, which is what my PhD project has been exploring – what are these plant-associated microbes and how can we use them? This is especially important, since as a species we rely heavily on plants. As climate change continues to have an increased impact and soil salinity continues to increase worldwide, crops will begin to fail, impacting our ability to feed the worlds rapidly growing population
What findings and solutions were provided by this research?
Some plant growth promoting bacteria have been found and are already being used, including nitrogen-fixing bacteria like Herbaspirillum used in sugarcane in Brazil, but we've barely scratched the surface of what's out there. Plant microbiomes have more variability than human microbiomes, and different species, habitats, soils and growth conditions impact upon the microbes present on and within a plant.
For my project, I went out to coastal paths on the west coast of Wales and collected plants thriving in the saline conditions. I isolated endophytic bacteria from within the plant tissues and set out to screen them for plant growth promotion. Because these bacteria came from within plants growing happily in coastal soils, I wanted to see if they could improve the growth of Brachypodium distachyon, a model grass species, when subjected to salt stress. I also screened them in vitro to put their own salt tolerances to the test, to explore the relationship between the two factors. I was lucky enough to be able to use the National Plant Phenomics Centre for the in planta screen, which has a really fancy setup for plants, where they're all grown on conveyor belts, so the plants can be automatically weighed, imaged and watered every day.
I inoculated seeds with my isolates and then applied salt stress, measuring the effect upon the plants over their life cycle. Using this approach, I've identified some potentially new plant growth promoters, which we're doing some further testing on now. I've also been doing some biochemistry, looking at the different bioactive compounds the isolates have been producing, which has already yielded some really interesting results.
How can this research support the transition to a more sustainable future?
As climate change has an increasing impact on the world, one of the large challenges is an increase in soil salinity worldwide, which leads to salt stress in crops and thus decreases yields. By identifying growth promotors in bacteria, we can find a way to reduce the impact of increased salinity on crops, without using artificial fertilisers. This is vital to achieve goal 2 of the Sustainable Development Goals: Zero Hunger and feed the growing population in a sustainable manner.
What is the future for research and innovation in this area?
Hopefully in the future, new approaches will be used to screen large numbers of isolates to identify and investigate more and more aspects of plant growth-promoting bacteria, which have the potential to provide alternatives to traditional practices such as artificial fertiliser, thus reducing the impact on soil health and increasing crop yields in a sustainable manner.
Now is a great time to be working with beneficial microbes; we're moving into an era where the public is increasingly accepting of the fact that vastly fewer microbes do harm than do good, and that more and more research is being done into the innumerable ways that we can use them to achieve really great things.

Learn more about Gareth's research in this blog which explores if microbes could hold the answer to rising soil salinity.
---
About the Author
Gareth Raynes is a PhD Researcher at Aberystwyth University, UK, and a member of the Microbiology Society. More information on his work is available here.