Roadshow 2020 and 2021: an opportunity to meet our President, Professor Judith Armitage
Next article
12 / 10 / 2021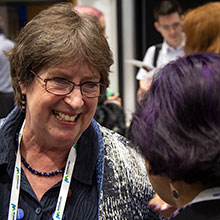 Following the success of the President's Roadshow events held in-person since 2019, which brought local communities of microbiologists together, in 2020 we moved them online to offer microbiologists in several local areas the chance to virtually meet each other and listen to our President, Professor Judith Armitage, talk about her career journey. The President took delegates through her achievements and great moments, but also provided examples of challenging situations that she had to overcome.
The first two Microbiology Society Online Roadshow events were held in Manchester, hosted by Dr Chloe James, University of Salford; and in Cardiff, chaired by Dr Helen Brown at Cardiff University. We continued this into 2021, successfully running a virtual Roadshow in Norwich in May, led by Professor Lindsay J. Hall, from Quadram Institute Bioscience.
All of the virtual Roadshow events received positive feedback, highlighting the great opportunity that they provided for attendees to network with microbiologists in their local area, and how inspiring it was to hear about our President's career. It was great to see members from around the world drop in to the calls too – an unexpected benefit of moving online. Some of those that attended commented that they found the Roadshow event to be a great opportunity to find out about how they can be more involved with the Society and to talk about the issues they are currently facing in their careers.
Take a look at what our delegates have said about the Roadshows:
"The stories of Professor Armitage were very interesting and a perfect example of persistence in science. It is an example of how to have a great career. I enjoyed the question and answer session, as I like the spontaneity of the speaker's ideas. The format and timing was great."
Dr Teagan Brown
Postdoctoral Researcher, Quadram Institute Bioscience, UK
"It was a great forum, and the talk was excellent."
Dr Melissa Lawson
Postdoctoral Scientist, University of Manchester, UK
Find out more about the Microbiology Society Roadshow on our website.