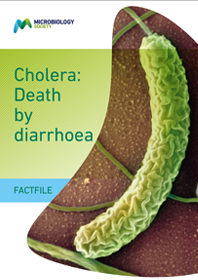 To view and print this document, you will need to download Adobe Acrobat Reader.
Cholera: Death by diarrhoea
01 January 2016 publication
A KS4 & post-16 resource (12 page booklet). Cholera is an infectious disease caused by the bacterium Vibrio cholerae. There have been seven worldwide disease outbreaks or pandemics since 1817, killing millions of people and infecting millions more. This resource charts the history of the disease and investigates the causes, diagnosis, treatment and prevention of the disease, as well as vaccine development and community education strategies.