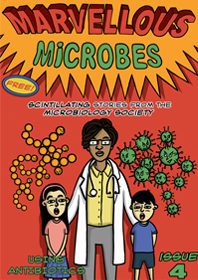 To view and print this document, you will need to download Adobe Acrobat Reader.
Marvellous Microbes: Using Antibiotics (Issue 4)
01 January 2016 publication
A KS2 and KS3 resource (4 page booklet). This is the fourth edition of Marvellous Microbes, and is all about antibiotic resistance. The story follows a brother and sister, one who has a bacterial throat infection and the other a viral infection. They visit the doctor and learn about how antibiotics work and how they are best used.