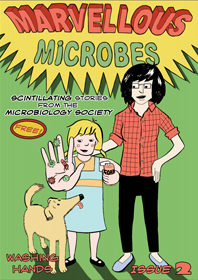 To view and print this document, you will need to download Adobe Acrobat Reader.
Marvellous Microbes: Washing Hands (Issue 2)
01 January 2016 publication
A KS2 and KS3 resource (4 page booklet with experiment page). Marvellous Microbes: Washing Hands is the second in the series of microbiology comic strips produced by the Microbiology Society. The story follows a little girl called Lucy whose mum is encouraging her to wash her hands, Lucy learns about when and why she should wash her hands. The comic includes an experiment to try at home to look at how well we wash our hands.