Our panels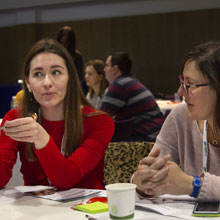 Members Panel
We are establishing a Members Panel; a group of members from underrepresented communities who will convene to bring their perspectives to our efforts to ensure the Society is welcoming across all its activities.
The Members Panel will enable us to expand the diversity of perspectives represented at decision-making level by providing a platform for members from minoritised ethnic and racial groups, members who are disabled, and members from other marginalised backgrounds to convene. The Panel is also open to members who are not from marginalised groups to participate if they wish to demonstrate their support, however our primary focus will be on bringing the voices of those who are not usually heard to the fore.
Selection of Chair and Panel members
The Members Panel will represent the full breadth of our membership, bringing unheard voices to the fore. We are particularly seeking representatives from Black and Asian members and those from other minoritised ethnic groups; members who identify as LGBTQ+ and members who have disabilities or long-term illnesses that impact their experience working in microbiology. Members of the Panel will be required to have an enthusiasm for inclusion and ideas for helping the Microbiology Society to be welcoming to anyone interested in microbes, their effects and their uses. The Terms of Reference for the Panel can be found below.

Members Panel Terms of Reference
Prize Award Panel
Each year, the Microbiology Society awards five Prize Lectures to outstanding microbiologists from around the world, from nominations made by its members. All Prize Lecture nominations are considered by a panel of members, chaired by the Society's General Secretary. Each year, we ask for volunteers from the membership to participate in the Prize Award Panel, to consider a shortlist for the Prize Medal and a recommendation for all other Prize winners for Council to accept when they meet in September. Find out more on our Prize Lectures page.