Previous activities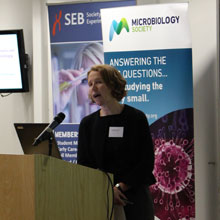 Biosciences Athena SWAN workshop
The Society, working in partnership with the Biochemical Society, British Ecological Society, Society for Experimental Biology and Royal Society of Biology, ran the first Biosciences Athena SWAN Best Practice Workshop in Charles Darwin House on the 11 December 2015. 50 delegates attended the workshop to share best practice and make connections.
The Society has produced a short video of the event highlighting some top tips from the speakers about applying for Athena SWAN awards and the benefits of attending event such as the Biosciences Athena SWAN workshop. You can watch the video below.
The Equality Challenge Unit, part of AdvanceHE, runs the Athena SWAN Awards and attended the event. They have produced a top tips sheet below.

Top Tips for Athena SWAN

Royal Society of Biology Returners to Bioscience
The Society was also a participant in the Royal Society of Biology's Returners to Bioscience Group. The group sought to provide resources and mechanisms to support scientists before, during and after a career break.
Your Life
The Society previously signed up to the Your Life campaign. Your Life was a three-year campaign, which started in 2014, to ensure the UK has the maths and science skills it needs to succeed in a competitive global economy. The campaign aimed to inspire young people to study maths and physics as a gateway to exciting and wide-ranging careers, and by helping employers recruit and retain talent, particularly women. Find out more by visiting the website.