Staff Action Group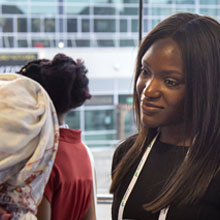 The Equity Diversity and Inclusion (EDI) Staff Action Group oversees the delivery and implementation of improvements and actions that will support all Society staff to feel welcome and included. By fostering this culture, the group will ensure that all staff feel they have equal opportunities while working at the Microbiology Society and will be empowered to advocate for EDI in everything they do, including driving EDI in membership activities. The Staff Action Group was established in June 2020 in response to the spotlight on structural racism arising from protests against the murder of George Floyd. The group's initial priority was to actively work towards making our decision-making bodies more ethnically diverse, while also continuing to ensure we have an ethnically diverse workforce and membership.
The group is responsible for an EDI plan that includes serious and achievable actions for both staff and membership. For staff, the actions fall under the following headings (i) Communication and Engagement, (ii) Recruitment and Selection, (iii) Pay and Career Progression, and acknowledges that we need to be outward looking, seeing what is going on in the rest of the world, to encourage the next generation of staff leaders and to enhance the reputation of the Society as an employer.
For members, the actions focus on how professional staff can support members to feel welcome and get involved in the Society, and include actions to reflect the membership in everything we do under the following headings (i) Members Panel, (ii) Nominations for Society positions, (iii) Communications and engagement (including imagery in our communications channels), (iv) Accessibility – both digital and in-person, (v) Code of Conduct and (iv) our publishing activities.