Policy Lunchbox – Enough of experts? Reflections on academic-policy engagement
12 Mar - London, UK
Join the Biochemical Society, British Ecological Society, Royal Society of Biology, Society of Experimental Biology and Microbiology Society for a Policy Lunchbox with Sarah Chaytor, Director of Research Strategy and Policy at UCL.
Overview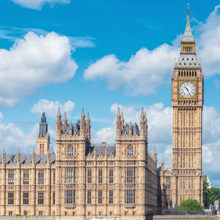 Overview
Sarah Chaytor will be reflecting on the reasons for pursuing engagement between academics and public policy – particularly in the current climate – as well as on some of the barriers that exist in such engagement and how universities can respond. The session will also include an overview of the mechanisms UCL has implemented to support academic-policy engagement, including a new, evidence-based, training programme with the Alliance for Useful Evidence.
Sarah is Director of Research Strategy & Policy and Joint Chief of Staff in the Office of the Vice-Provost (Research) at UCL. She has responsibility for advancing the UCL Research Strategy; strategic management of the OVPR's portfolio of activities; the development of research policy; providing expert analysis and advice to the Vice-Provost and other senior leaders at UCL; leading UCL's public policy engagement agenda; and high-level external engagement.
Sarah has previously held posts at UCL managing the UCL Public Policy programme which supports engagement between academic research and public policy; advising on research policy and impact; and coordinating cross-disciplinary research activities under the UCL Grand Challenges.
Prior to joining UCL, Sarah was a Research Fellow at the Russell Group and before that Policy Officer at the Wellcome Trust and Universities UK. She previously worked as a parliamentary researcher for a number of MPs and began her career working at the think tank The Smith Institute. Sarah has a first class degree in English Language and Literature from the University of Oxford and a Masters degree in Issues in Modern Culture from UCL.
A free buffet lunch is included.
---
Image: iStock/rclassenlayouts.
Booking details
Booking details
This event is free and includes a networking lunch. However space is limited and places must be reserved in advance. Due to high demand for Policy Lunchbox events, the number of spaces for individuals in the same organisations will be limited. If the event is full, please sign up to the waiting list to be notified when a space becomes available.
Please register through Eventbrite to attend this event.