Membership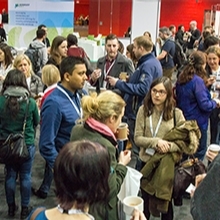 Join us to access new communities and further your professional development, knowledge and expertise
We know our members have a unique depth and breadth of knowledge about microbiology. The Society's role is to help unlock and harness the potential of that knowledge to help you build and strengthen your networks and expertise, no matter what stage of your career.
Our principle goal is to develop, expand and strengthen the networks available to our members so that they can generate new knowledge about microbes and ensure that it is shared with other communities. Join us to help us achieve our mission of advancing the understanding and impact of microbiology by connecting and empowering communities worldwide.
Why join the Microbiology Society
We offer many benefits and opportunities for anyone interested in microbiology, whatever your career stage. We're invested in supporting our members, helping them to connect to our active community, and there are many opportunities to get involved and shape our work.
In addition to being eligible to apply for our grants and additional funding through our membership of the Federation of European Microbiological Societies (FEMS), members also receive a discount on Society meetings and events, which we host to bring together communities around their research and interests. Our Members Directory allows you to connect with other members and build your presence within the microbiology research landscape. We have a thriving early career researcher community with many chances for those setting out in their careers to gain vital skills and experience. We offer the opportunity for members at any career stage to shadow our Council and Committees to find out how we work and understand what it takes to lead an organisation like ours. On top of all that, members receive an exclusive discount on article processing charges to publish in any Society journal if they are not already covered by their institution's Publish and Read deal.
---