'Diversity in Microbiology' collection is open for submissions
23 March 2023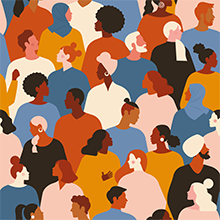 The Microbiology Society is pleased to open the call for submissions to its new collection, 'Diversity in Microbiology'.
The Society President, Professor Gurdyal Besra, has commissioned a number of articles from under-represented groups, highlighting the talent we have within our Society, and where our members are producing cutting-edge research within microbiology. This collection is open for submissions across our portfolio from members of historically marginalised groups.
Authors wishing to submit to the collection should do so via the online submission system and note in the cover letter that their submission is intended for the 'Diversity in Microbiology' collection. If you have any questions, please contact [email protected].
Greater diversity within all that we do will widen the talent pool available for the field of microbiology and create networks of ideas and collaborations, potentially leading to greater development and innovation. Working to be inclusive helps us ensure we have a thriving community, which in turn will pave the way for us to support microbiology into the future.
The Microbiology Society is a not-for-profit publisher and supports and invests in the microbiology community. All surplus income is invested back into the Society, be it through providing grants, facilitating policy activities, conferences and other activities. All members receive a 30% discount on Open Access (OA) charges and all corresponding authors at Publish and Read institutions are entitled to fee-free Open Access. The Society also has an inclusive OA policy and any corresponding author from a country in Group A or B of the HINARI programme is automatically entitled to a 100% discount on OA charges.
---
Image: iStock/Angelina Bambina.