Join us for the 'How polluting is plastic?' webinar in collaboration with the Royal Society of Chemistry
11 October 2021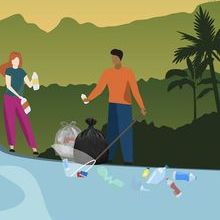 Join us on Monday 25 October to find out about the impact plastic waste has on the natural environment, from both the chemical and microbial point of view, and how natural processes can be used to deal with plastic waste and convert into value-added products.
This webinar is jointly organised with the Royal Society of Chemistry.
We have all seen images of plastic in our oceans and washed up on our beaches. In fact, The Pew Charitable Trusts report that 11 million metric tons of plastic was leaked into the ocean in 2016.
The existing plastics lifecycle, from starting materials to waste, is complex and there are many areas for improvement. Scientists are looking for solutions across the lifecycle.
One area of study is the detection and measurement of existing pollution, and its impact on the environment and ecosystem. This could be detecting and characterising macro-, micro- and nano-plastics, or investigating how the waste interacts with and becomes part of microbial processes.
Scientists can also take inspiration from the workings of the natural world to find innovative solutions for dealing with our plastic waste. For example, microbes are now part of the tool kit in the technical side of the circular economy, where microbial enzymes can degrade plastics and microbes can convert those monomers to value-added products.
One thing is clear, that humanity's reliance on this highly useful material is having lasting impacts on the natural environment.
Our speakers will discuss:
Enzyme recycling of plastic waste, and the potential to form a bioeconomy for plastics
The 'plastisphere', the microbiological communities that live on plastics
How chemists sample and detect microplastics in water
(ideally) the chemicals release from plastic waste and their impact in the environment
If you have any questions or would like to request more information, please contact [email protected].
Find out more and register for the upcoming webinar on the event page.
---
Image: Royal Society of Chemistry.