Supporting our international community at the 8th Conference on Beneficial Microbes
26 September 2022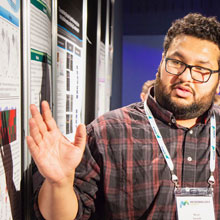 As we look to broaden our community to be more inclusive and international, the Society supported the 8th Conference on Beneficial Microbes in Wisconsin (USA), providing awards, opportunities and prizes for thirteen microbiologists. The conference on Beneficial Microbes brought together US and international researchers across multiple disciplines, including clinical science.
Caregiver grants
The Society awarded five grants, totalling almost $2,500, to support the professional growth of microbiologists who may otherwise miss out on development opportunities.
"The conference has always been conscious about being inclusive and the support from the Microbiology Society to provide concrete support for caregivers is such a concrete way to support this mission," said Elizabeth Johnson, Cornell University, USA.
Karen Peralta Martínez, University of Pittsburgh, USA commented: "Typically, I provide care for my kid outside work hours […] care for my baby becomes challenging when choosing whether to attend and travel for conferences. I am grateful I was considered for this prize, as it contributed to the opportunity to develop professionally […] without sacrificing my already stretched PhD stipend."
ECM guest edited Beneficial Microbes collection
As part of our efforts to support the professional development of early career microbiologists and raise the profile of this important area of microbiology, we are pleased to announce that Aman Kumar (Yale University, USA) and Aayushi Uberoi (University of Pennsylvania, USA) will be acting as ECM Guest Editors and curating the 'Beneficial Microbes' collection. In this role, they will get hands on experience of how to bring together a themed collection within a topic of interest, and gain a behind-the-scenes look at the role of an editor in Microbiology. This collection will have a special focus on review articles from early career microbiologists and explore the different themes of the Beneficial Microbes meeting. If you'd be interested in contributing to this collection, please reach out the Guest Editors to discuss a potential article.
Poster prizes
We are pleased to announce the six winners of a Microbiology poster prize, each chosen for their compelling research and well-designed presentation. Congratulations to all our winners.
Ethan Hillan (University of Michigan, USA), Engineering the Human Microbiome to Increase Production of Indole Lactic Acid as a Therapeutic in the GI Tract.
Celeste Alexander (University of Michigan, USA), Diet-Microbe Interactions in Pathogenesis of IBD Using a Gnotobiotic Rodent Model.
Denise A. Ludvik (University of Wisconsin-Madison, USA), Histidine kinase BinK is a Key Mediator of Biofilm Signaling during Vibrio fischeri Host Colonization.
Tina Bui-Bullock (University of Rochester Medical Center, USA), Gut Microbiota Regulation of S. aureus Osteomyelitis Severity in Obesity/Type 2 Diabetes.
James Weagley (Washington University, USA), Products of Gut Microbial Toll/interleukin-1 Receptor Domain NADase Activities in Gnotobiotic Mice and Healthy and Malnourished Bangladeshi Children.
Audrey Parish (Indiana University, USA), A Honey Bee Symbiont Provisions Lysine to the Larval Diet and Buffers Larvae against Nutritional Stress.
Microbiology is proud to be championing the work of microbiologists: not only are authors publishing to an international audience, but publishing income helps the Society fund prizes like these to enable further research. In 2023, Microbiology will be transforming to a fully Open Access journal to increase global readership and amplify the work of our authors – submit now to be a part of this exciting journey.
Increase your impact. Expand your reach. Support your community.