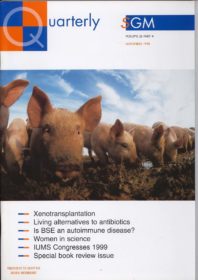 To view and print this document, you will need to download Adobe Acrobat Reader.
Alternative sources
01 November 1998 publication
The lead articles of the November 1998 issue of SGM Quarterly are on xenotransplantation; living alternatives to antibiotics; if BSE is an autoimmune disease; and women in science.
Comment – Quality assurance, accreditation and CPD: Bright future or nightmare scenario? (p. 126)
Professional matters such as accreditation and quality assurance are the cause of much concern in academi at present. Allan Hamilton brings us up-to-date on the issues involved.
Living alternatives to antibiotics (p. 128)
Some experts predict the imminent end of the antibiotic age. If this happens we will be desperate for new ways of treating infections. Could a reappraisal of some old approaches using living organisms be the answer? Milton Wainwright takes a look at some old alternatives.
Endogenous retroviruses and xenotransplantation (p. 130)
Transplantation offers potential treatment for many human conditions but the use of pig tissue presents serious challenges to microbiologists. Jonathan Stoye considers the hazards from retroviruses that might prove a stumbling block to the developing technology.
The problems facing women researchers (p. 132)
What are the factors that influence the number of women achieving senior positions in biomedical science? The Wellcome Trust is commissioning an independent study to find out, which Lawrence Low and Jonathan Grant discuss.
Women in microbiology (p. 133)
Janet Hurst questions whether gender is an issue in microbiology or not.
Friendly fire; molecular mimicry and BSE (p. 136)
Is BSE an autoimmune disease or caused by prion protein? Here the two opposing views are considered by Alan Ebringer, S. John Pirt and Clyde Wilson.
Autoimmunity or infection in the TSEs? A comment on the Friendly Fire Theory (p. 137)
Moira Bruce discusses new theories on 'prion diseases'.
IDF Report: Cosmetics and drugs in Thailand (p. 153)
Mike Mattey describes the workshop on Fermentation Technology for Cosmetics and Drugs.
EFB: Activities of the section of microbial physiology (p. 156)
Dave Kelly reports on formation of a Section of Microbial Physiology.