Microbiology Career Guide for Undergraduates: empowering the next generation
Posted on September 27, 2023 by Microbiology Society
Professional development for early career researchers helps to drive the process of science by giving researchers an opportunity to disseminate their research, get feedback and learn about new research tools and ideas. Professional development events play a vital role in equipping individuals with the knowledge and skills they need to excel in their careers.

One of our Champions, Dr Michael Ukwuru, was awarded funding through the Society's Champions Scheme and used it to organise a Microbiology Career Guide in Idah, Nigeria, for undergraduate students. This event offered valuable insights into the world of microbiology and provided a platform for students to explore diverse career opportunities. Below, Michael provides the highlights from the event and advice on organising successful professional development events.
Highlights from the Microbiology Career Guide event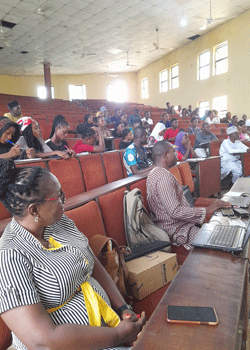 The Microbiology Career Guide event was a resounding success, thanks to the dedication of its organisers and the generous support of the Microbiology Society. Some key highlights include:
Comprehensive content: the event featured a diverse range of presentations, from an overview of the microbiology profession to guidance on advancing one's career. Participants gained insights into various career pathways, research projects, and networking opportunities within the field.
Engaging panel discussion: a panel of experienced professionals shared their career journeys and the importance of mentorship. This session inspired attendees and provided valuable guidance on successful career paths in microbiology.
Networking opportunities: the event facilitated meaningful connections among participants, encouraging collaboration and knowledge sharing. Networking activities allowed attendees to build a network of professional microbiologists.
Practical guidance: a session on navigating research projects offered practical tips for effective project planning and execution. This provided students with valuable skills for their academic and professional journeys.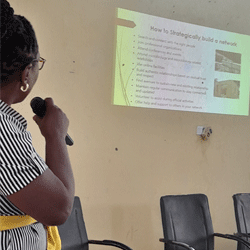 Pitch presentations: participants had the opportunity to present their projects and ideas concisely. This exercise honed their communication skills and allowed them to showcase their work to peers and professionals.
Q&A sessions: interactive Q&A sessions fostered open discussions and enabled participants to seek clarification on various topics. Attendees left with a deeper understanding of key concepts.
Sponsorship impact: the Microbiology Society funding played a pivotal role in making the event possible, highlighting their commitment to nurturing the next generation of microbiologists.
Advice for organising professional development events
Organising a successful professional development event requires careful planning and execution. Below are some valuable tips to take your events to next level or simply give you the encouragement to organise your own professional development event for your community.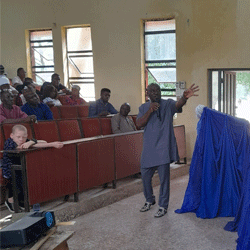 Define clear objectives: start by defining the event's objectives. What do you want participants to gain from the event? Having clear goals will guide your planning process.
Engage knowledgeable speakers: invite experts and experienced professionals in the field to share their insights. Proficient speakers can significantly enhance the value of your event.
Plan interactive sessions: include interactive sessions like panel discussions, workshops or Q&A sessions. These engage participants and encourage active learning.
Networking opportunities: create opportunities for participants to network with peers and professionals. Networking is a crucial aspect of professional development.
Evaluate and gather feedback: conduct pre- and post-event surveys to assess the knowledge gained. Gathering and acting on feedback allows you to improve future events.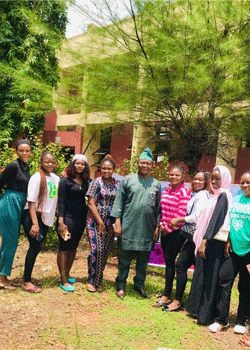 Secure sponsorship: seek sponsorship from organisations or associations aligned with the event's goals. Sponsorship can help cover costs and enhance the event's impact.
Promote effectively: use various channels to promote your event. This includes social media, email, newsletters and partnerships with relevant organisations.
Follow-up: after the event, follow up with participants. Provide resources, share presentations, and maintain connections to sustain the learning and networking opportunities.
In conclusion, the Microbiology Career Guide for Undergraduates event exemplified the importance of professional development
events in empowering individuals to achieve their career goals. By following these key tips, you can organise successful events that inspire, educate, and empower your audience. Professional development is a journey, and events like these are significant milestones along the way.