Save the date and join 'Get Involved: our Policy and Engagement work'
22 June 2022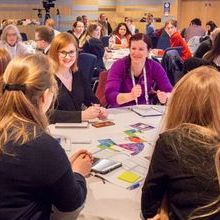 The Microbiology Society is pleased to announce the latest event in our Get Involved series, focusing on exploring opportunities available for members to get more involved with Society activities, by hearing from other members about their experience and how this has aided their professional development.
'Get Involved: our Policy and Engagement work' will take place virtually on 19 July 2022 at 13:00 (BST – UK time).
We would like to welcome anyone who is interested in finding out how the Society raises the profile of microbiology and our members through our policy and engagement activities, and how you can get more involved in policy consultations, events and projects.
The Microbiology Society provides many exclusive member benefits designed to support personal and professional development and based on feedback from members themselves.
Learn more about what you can expect at the event and register to attend via the event page.