Information for postgraduates and beyond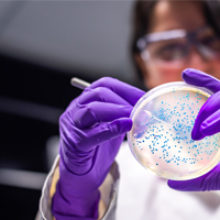 A postgraduate degree in any aspect of microbiology prepares you for a career in research. It is important to start to think about your plans after your master's or PhD so that you can make the most of the ever-increasing options available to postgraduate students. Taking advantage of career-enhancing opportunities such as publishing your research, networking and presenting your research have direct benefits to your CV and will also help you to distinguish yourself as a professional scientist. Demonstrating for undergraduate laboratory practical classes and tutorials is another way of gaining a different set of skills, and a way of exploring whether, further down the line, teaching or lecturing may be for you.
Many universities offer training courses on anything from public speaking training to using word processing software to its fullest capacity. Although these training courses may take some days away from your research, you will find that they can offer great benefits to your career, not only making your time as a research student more efficient, but also adding to your CV. These courses can also be very beneficial if you decide that research is not for you because they help you to gain transferable skills.
---
How can I improve my employability during my postgraduate studies?
There are many ways to maximise the opportunities you will have during your postgraduate studies. Alongside ensuring that you present and publish your research when appropriate, there are other opportunities such as giving and organising seminars, visiting another lab to learn a particular technique, or running outreach and public engagement activities. The Society provides grants to support many of these activities.
Presenting your research
If you intend to follow a research career path, there are a few things that you can do to increase your employability. Taking up every opportunity to present your work – in your department, or school or externally – may sound daunting but can increase your self-confidence and allow you to share your research with your colleagues while receiving feedback on your work. For hints and tips on giving a great oral presentation, see our video below.
How to give a great oral presentation

Public engagement and outreach
You may also find that communicating your research to the general public allows you to better understand it while understanding where it fits in the bigger picture. The skills you develop while presenting to the general public, in addition to planning the event itself will enhance those developed in the process of your core research activities.
Networking
As a researcher you should take every opportunity to network with others in your field (especially those who have potential as employers). Presenting work at Society conferences and other scientific meetings is an excellent way of promoting your abilities as a scientist. Conferences also provide the ideal informal venue for getting to know other researchers and academics.
Publications
Publishing your research in journals is vital to a researcher and achieving one or two publications while a PhD student can be a real bonus for your career prospects. Our Publishing department has provided some guidance on how to get published.
Postgraduate and beyond - postdoctoral researchers
The postdoctoral years are an important career stage for any microbiology researcher. It's the time when you build the technical and professional skills you will need as you progress towards becoming a principal investigator. Competition for posts continues to increase, increasing the need to continue your professional development.
If you decide that a research career is not for you, it is still a good time to build on your transferable skills and develop other interests. Some recent PhD graduates consider moving to a new country for a postdoctoral position; you will find some information on important considerations to take into account when moving to a new country on the Prospects website.
As a researcher you should take every opportunity to network with others in your field. Presenting work at Society conferences and other scientific meetings is an excellent way of promoting your abilities and the Society offers grants to help fund this. Conferences also provide the ideal informal venue to get to know other researchers and potential collaborators. Once you have made a connection with a new collaborator it can be beneficial to make a research visit to their lab, to learn new techniques or take advantage of facilities not available in your own lab. The Society offers grants towards the cost of a one- to three-month research visit; the ideal start to a productive collaboration, which could lead to your next postdoctoral position.
Publishing your work
Postdoctoral workers who wish to forge a career in research should always be looking towards the next paper. Publications are traditionally the most important way of assessing the quality of a researcher. It's not just about the quantity of publications you have, but also the quality. Publishing in high impact factor journals ensures the widest audience but can take a little longer than other journals. However, it is also important to target the journal with the best audience for your paper. If you are working in a highly competitive field you should consider carefully which journals to target – your supervisor will have a grasp on this. For more information on how to publish in the Microbiology Society journals, see our journals website.
Management experience
To build up research management experience, you could volunteer to supervise an undergraduate or postgraduate student. You can take the initiative by suggesting ideas for projects or even applying for a vacation studentship to fund it.
Science Careers is a very useful careers website for scientists, packed with advice, articles and links.
Funding sources
The Medical Research Council offers grants, including the Career Development Award, to post-doctoral, non-clinical scientists with two- to three-years' experience. For information about the grants on offer see the MRC website.
The Royal Society offers several funding schemes to support postdoctoral researchers:
Dorothy Hodgkin Fellowships are designed to support the first steps into independent research.
University Research Fellowships provide outstanding scientists the opportunity to build an independent research career.
Further details on all the grants available can be found on the Royal Society website.
The Sir Henry Wellcome Postdoctoral Fellowships from the Wellcome Trust provide funding for promising researchers at the beginning of their independent research careers.
The Biotechnology and Biological Sciences Research Council offers the New Investigator Scheme to help early career researchers secure their first major research funding.
BBSRC David Phillips Fellowships support scientists who have demonstrated high potential during their research training and initial years of postdoctoral research.
The Daphne Jackson Trust offers assistance to scientists returning to careers in STEM after a career break of at least two years.
Resources
Further information
Learned societies
Professional bodies
Research councils and funding bodies
Universities, research and careers organisations
Job sites
jobs.ac.uk
Nature Jobs
New Scientist
Science Careers
Biomedical Science Jobs
Target Jobs
NHS Jobs
Guardian Jobs
Times Higher Education
Recruitment agencies
Science Recruitment Group
Lab Support UK
---
Image: iStock/Manjurul