Information for school leavers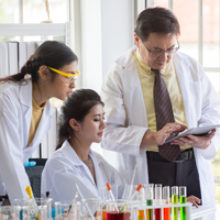 Most microbiologists have a university level qualification. With the massive choice of courses, universities and methods of study, it can be hard to choose the one that suits you best. Some microbiologists opt for an apprenticeship scheme and this option is becoming more popular.
We can't tell you which course to choose or which route to go down – only you can decide that – but after browsing these pages and looking at the links you should be better placed to choose a university and course or scheme that suits you.
---
Choosing a course
As well as choosing the subject you want to study, you may also want to think about the type of qualification. A full-time Bachelor of Science (BSc) is the most common route but it's not the best option for everyone. If you're not sure you want to commit to a full three- or four-year course, there is the option of studying for a foundation degree (FdSci) or a Higher National Diploma (HND). Due to financial constraints or other commitments, part-time study may work better for you. You'll find more information on the different options below.
Bachelor of Science
Most students opt for a Bachelor of Science (BSc) degree and there are more than 50 universities across the UK and Ireland where you can study microbiology as your main option.
Although most BSc degrees last three years, some are four years long and include a period of work-place training. This provides excellent practical experience – very useful when applying for jobs after graduation.
If you're interested in working as a biomedical scientist in a hospital microbiology laboratory you should choose a BSc in biomedical science that is accredited by the Institute of Biomedical Science (IBMS).
The UCAS website includes a course search option (for full-time BSc courses and some foundation degrees), and advice and information on applying to university.
Foundation degrees
Foundation degrees (FdSci) are an intermediate higher education qualification lasting two years. They are designed by universities in conjunction with employers and they mix academic study with work-based learning so that students gain knowledge and skills directly relevant to the workplace. Foundation degrees are usually taught at Further Education Colleges and are validated by universities.
If you enjoy studying, and successfully complete the degree, it is usually possible to progress onto an honours degree pathway at the validating university; further study for 12–15 months would lead to a BSc. Alternatively, a foundation degree will prepare you to go straight into a job.
Higher National Diploma
Some universities offer Higher National Diploma (HND) courses in microbiology or related biological sciences. They are similar to foundation degrees because they are two-year courses and are also designed (sometimes in consultation with employers) to be a good preparation for entering the world of work. Very often, students who do well at HND go on to study for another two years leading to a BSc. However, if you decide against further study you have relevant skills for finding work.
Apprenticeships
Apprenticeship schemes allow you to work alongside experienced staff to gain job-specific skills and earn a wage whilst working towards a recognised qualification. Many universities, in collaboration with an employer, now offer Laboratory Scientist Degree Apprenticeships. Apprentices are trained to fulfil future roles and are often well equipped with the necessary skills and training. Having completed a scheme, you may find a full time job at the end of it, if not you'll be in a favourable position with other employers.
Entry requirements
BSc degrees
The usual university minimum entrance requirement for school leavers is five subjects including maths and English at GCSE (grades 9–4) and two A-level science passes (or four Scottish Higher grades with two from maths, biology or chemistry). However, many institutions require three A levels or the equivalent combination of AS and A levels (or four Scottish Highers/two Advanced Highers). Other qualifications such as a relevant BTEC may also be acceptable. If you are not sure about the eligibility of your qualifications, you should seek advice from the university directly. Some universities use the UCAS entry tariff while others prefer to make offers based on grades. Each application is judged on its merits and when an offer is made, many factors are taken into account. If you are returning to education or do not have the required grades, some university courses offer a foundation year (different to a Foundation Degree) to prepare you for the degree course.
FdSc degrees and HNDs
The usual minimum entry requirement is one A-level at grade C or above or two Scottish Higher grade passes. BTEC level 3 or HND is also acceptable. Passes in maths and English at GCSE or Scottish standard grade are also usually required.
Required subjects
For entry to a microbiology or allied course, preferred subjects at A-level (or equivalent) are biology, chemistry, maths or physics. Although non-science subjects are acceptable, studying at least two of the preferred subjects will give you the most choice when selecting courses and universities.
Chemistry and biology are the most useful subjects to have studied – in fact many universities list these as required subjects. Studying biology alongside two non-sciences at A-level is not a good preparation for a university science course and some institutions do not accept this combination of subjects for entry to a biological science or microbiology course.
Apprenticeships
Minimum requirements for Higher Apprenticeship schemes vary but the usual minimum requirements for school leavers is five subjects including Maths, English and a science at GCSE (grade 9–4) and three A-levels or equivalent (grade A–C), often including Biology or a least one science-based subject.
Choosing a university
Things to consider
Do you want to do a general biology or biological sciences course to keep your options open, or narrow your focus into something more specific such as environmental science or healthcare?
Does the course have a good reputation for teaching quality?
Are you considering a placement year and does the course offer this?
Does the course offer modules of specific interest to you?
What do current students say about the course/university? Open days are a good opportunity to talk to current students.
Do you want to stay close to home or fly the nest and move somewhere completely different?
Do you prefer a campus university where most things are in one place?
Do you like the convenience of city living, where you can easily reach shops and entertainment, but where the university buildings may be more spread out?
What level of tuition fees are charged by your chosen institution?
Choosing an apprenticeship
Things to consider
What level of apprenticeship is right for you? Higher apprenticeships are a step above Advanced apprenticeships and may lead to a degree equivalent qualification. However, you may find more options available when looking for an Advanced apprenticeship.
Do you want a college of training provider closer to home or even within the company?
What balance of classroom time to practical work works best for you? This will vary with all apprenticeship schemes.
Does the company interest you? You may have the opportunity to gain a permanent position at the end of your scheme.
Making applications
Once you have made your selection, you must apply through UCAS for entry to a full-time BSc course. For other types of courses and part-time study it is best to consult the individual institutions directly.
Funding
The gov.uk website has information about funding for students in England, Northern Ireland, Scotland and Wales.
---
Image: iStock/iammotos