Member Q&A: Nikki Green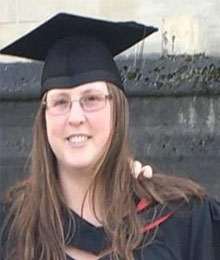 What is your current job title?
I am a PhD student working on ticks and tickborne diseases. My current thesis is emerging infectious diseases biosecurity and surveillance.
What organisation do you study with?
I am affiliated with Queens University Belfast.
What qualifications did you need to pursue a career in your field?
My undergraduate degree was aimed at getting me into the clinical environment so at the end of my undergraduate I was a registered biomedical scientist. For a while the NHS set out a specific route where you did a healthcare science degree, aimed at getting you into specialising in a particular biomedical science discipline, for your undergrad instead of biomedical science. Over the course of the 3 years it also gave you 48 weeks of work experience so it was tough but good because it meant that we were registered, we'd completed our portfolios – to become a registered biomedical scientist I had to register with the HCPC and my course had to be IBMS registered as well. I was exhausted but it was worth it and I certainly learned time management skills during the course, which is always a good skill to have and it carries over to when you start working.
Have there been any discoveries in microbiology that inspired you?
Not really. It's funny because going into the course there were four pathways that you could have taken: genetics, haematology, microbiology. I generally thought I would do either haematology or genetics when I first started and ironically I hated both of them! I found that getting to do the practical's, and how hands on the microbiology seemed to be compared to the others, was really enjoyable. In the first year, in regards to the placements, they were shorter placements just for tasting – just to get the right experience – and I found the bacteriology and the virology were just more enjoyable than the others. Essentially there wasn't a particular thing it was almost like a slow progression towards Microbiology. I had definitely changed my ideas what I wanted to be, when I was really tiny I wanted to be a Gardener, of all things! When I was around 15 I wanted to be a Lawyer, so how I have ended up in Sciences, I am not sure but I could not imagine being anywhere else now.
What are you working on at the moment?
At the moment, COVID has definitely been a kicker partly because the tick season runs from March to October and last year, which is when I first started my PhD, lockdown meant I wasn't able to really get out and do anything. However, once I do get out into the field I'll be doing a technique called flagging which is where you attach a white cloth to a stick and drag it across the ground and the ticks will latch onto that cloth. We will collect the ticks off of that. We get them back to the lab so we can process them and extract the DNA to see what pathogens they may be carrying.
What skills do you think are important to do your job?
I think definitely that sort of curiosity is so important. I have my colleagues back in the diagnostics lab, they are curious and they are able to prosper being in a more regimented working environment, which of course is necessary to ensure consistency in diagnoses. Whereas I think I've got that need to fiddle around to see what's going on (e.g., if I had this what happens, what would happen if I do this), so perhaps not necessarily a skill but a requirement in research is curiosity. There are also the standard skills you need such as time management, being good at doing the lab work, good at writing up your results, knowing how to analyse your data and so on.
Tell us about some of your professional challenges and how you managed to overcome them?
To an extent, working with people can be quite challenging and in the working environment you can't always get along with everybody. You just have to try and remind yourself to be professional and do what needs to be done and then draw a line under it. You try not to let any personal grievances get in the way of doing your job because of course it's a really important job. A lot of these people are quite ill so you definitely have to put aside any issues and think the ultimate goal here is to give someone a diagnosis that could help them get well again.
What do you like most/least about your work?
I enjoy the chance to get to do research, however I do not enjoy the fact that COVID is stopping me from doing the research that I want to do. In terms of the diagnostic job before my PhD, I enjoyed helping people and got on really well with my colleagues. However, I have a very research based soul so I found the rigid nature of the work very difficult. In addition to my PhD I am working at the asymptomatic COVID centres on a part-time basis. I enjoy the new experience and having a patient interactions, most of which are with student across the university, it's great to have the opportunity to get people tested in order for them to access the university campus.
Have there been any advances in clinical microbiology that you are looking forward to see?
A lot of my research has been done, just not in Northern Ireland. There is extensive research available on ticks, their population, their pathogens for England, Scotland, Wales and even the Republic of Ireland. However, for Northern Ireland, it seems to be an area of research that is neglected. There are even some GPs that were not aware that ticks are in Northern Ireland and therefore, are not aware of the diseases that they can possibly be passing on – for example, Lyme disease is one of the biggest tickborne pathogen in the northern hemisphere and the fact that a lot of these doctors possibly are not looking for it is very concerning. In the early-stages of Lyme disease individuals would typically develop distinctive signs of bullseye rash, formally known as erythema migrans. Early-stage symptoms include fever, chills, fatigue and headache whilst symptoms like numbness in hands and legs, arthritis and short term memory loss can be observed at the later stages of Lyme disease. My work has slightly more of an animal slant to it as I am specifically looking at the tickborne pathogens that affect animals. There is evidence that shows dogs are developing Lyme disease, in addition my research has looked at the pathogens that effect cattle. A lot of my work now is very molecular based, whereas before I was more involved in bacterial observations which was great so I am looking forward to continuing laboratory work.
If you did not pursue a career in clinical microbiology research, what would you see yourself doing instead?
If I had stayed in diagnostics I would have liked to have worked my way up to a training officer role as I really enjoy training people.