Member Q&A: Dr Karen Campos-León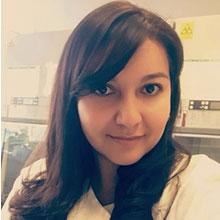 What was your most recent job title?
I am currently on a career break. My former position was Postdoctoral Research Fellow at the University of Birmingham. I moved to the UK in 2008 to study a PhD and pursue a career in science.
What organisation did you work for?
I worked for the University of Birmingham.
What qualifications did you need to pursue a career in your field?
I come from Mexico where the bachelor's degree is longer than in the UK. My bachelor's degree (BSc) was a five year course in Biology. I then completed a two year master's degree (MSc) in Genetics and Molecular Biology. From the beginning of my master's degree I knew that I wanted to complete a PhD, however, I wanted a bit more experience and independence before moving to the UK. It was important for me to be better prepared and improve my communication and practical laboratory skills. Finally, I felt more equipped to start my PhD studies. I obtained a PhD degree in Biochemistry at the University of Bristol in 2013, under the supervision of Professor Kevin Gaston. During my PhD project I studied the biochemical and biological properties of the human papillomavirus (HPV) E2 protein, which is a viral transcription factor that also functions in HPV replication and segregation.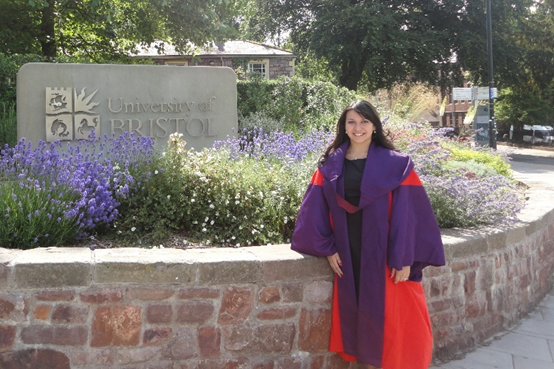 Have there been any discoveries in Microbiology that inspired you?
My motivation to become a scientist started whilst being at school lectures. I was always inspired by scientists and researchers because their work unveils new opportunities for people with life threatening and debilitating diseases to recover their health. I developed a great interest on molecular biology because I find fascinating how everything is coordinated and finely tuned at a biochemical level. Understanding how viruses disrupt this fine balance and use the cellular machinery to their own advantage, not only amazes me, but also means that we can actually use this knowledge to improve human health.
Low-risk HPV types can cause benign lesions (warts) and high-risk HPV types can cause different types of cancer, such as cervical cancer. The reason I chose to work with HPV is because these viruses constitute an important health problem in Mexico, since the second most common cause of cancer-related mortality in Mexican women is cervical cancer. Researchers started studying these viruses because they were associated with cervical cancer, however, there are many other types of cancer that these viruses can cause. For example, some types of head and neck cancer can be related to HPV in some cases. Clinical and non-clinical research is being carried out, in places such as the University of Birmingham, in order to better understand risk factors, tests and treatments for HPV-related diseases. Tumour virology is a very important area to be studied and I feel truly inspired by it. There is so much that we can investigate in order to help affected people improve their quality of life and discover effective treatments for them. At the moment I am on a career break since I became a mother, but I would like to contribute with my experience to encourage young scientists to carry out research on HPV-related types of cancer, especially in Mexico.
In terms of techniques, I find it astounding that we can culture skin rafts in the lab by inducing the differentiation of keratinocytes. This is a technique that is performed in my former lab, but I haven't performed it myself. The fact that we can actually study the HPV life cycle in the lab in such a way that resembles what happens in our bodies is inspiring and amazing!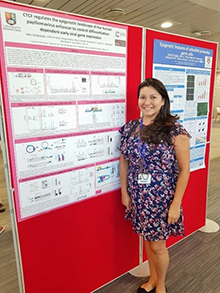 Tell us about some of the work you have been involved in?
I worked as a Postdoctoral Research Fellow in Virology in the Institute of Cancer and Genomic Sciences, at the University of Birmingham for 5 years. During this time, I worked under the supervision of Dr Joanna Parish and performed collaborative work with Dr Sally Roberts. In their laboratory, I undertook different research projects that aim to understand the mechanisms that HPV use to persist and replicate in their host using primary keratinocyte-based models of HPV infection.
During my first postdoc, we characterised a novel interaction between the HPV E2 protein and a cellular protein, Rint1, that functions in subcellular trafficking and DNA damage repair. Later, I studied virus-host interactions that are important for HPV and cellular gene expression. My research focused on CTCF, a cellular transcriptional repressor that mediates inter- and intra-chromosomal interactions. We aimed to study how CTCF regulates HPV oncogene expression. This could allow us to understand much better how HPV drives the progression of benign and malignant diseases, and eventually, find new treatments against them. In addition, we could potentially find molecular markers to allow an early diagnosis of malignancies caused by high-risk HPV types.
A couple of papers in which you could see some of the work that I contributed to during my postdoctoral work:
https://doi.org/10.1371/journal.pbio.2005752
https://doi.org/10.1128/JVI.02305-16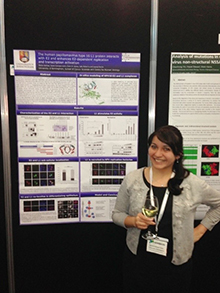 What skills do you think are important to do your job?
I would say many of the skills required are personal skills. If you are willing to learn then that is half the battle done already. I think that you have to be hardworking, you need to demonstrate good communication skills, and you need to be extremely resilient in science. There may be many stages in your career where you feel like you have hit rock bottom. In this case, the best thing to do in my opinion is to slow down, go back and start again knowing that this stage was not a failure, but a part of the process in order to succeed. It is all about opening yourself up to that opportunity to learn from the mistakes. Other key skills are problem solving and analytical thinking, whilst being consistent in understanding your research even when you do not get the desired result in the first instance. I am very grateful to the Microbiology Society for its support during my career, which allowed me to attend the most important meetings in my research area. By attending these meetings, I acquired valuable knowledge on the most recent discoveries and projects that were currently taking place within the cancer virology community. Most importantly, I had the opportunity to present my own research during poster and oral presentations, which allowed me to further develop and improve my communication skills. I also became more critical about my own research and I developed the ability to understand a great variety of techniques used in my field. Undoubtedly, I gained a great amount of knowledge and obtained new ideas to expand and improve my own work as a researcher. Also, the poster presentation sessions provided an excellent environment to discuss about related projects and get to know people's research interests. I got to know very interesting people and catch up with scientists that I have met in previous meetings. Getting to know people in a more relaxing setting was also great fun!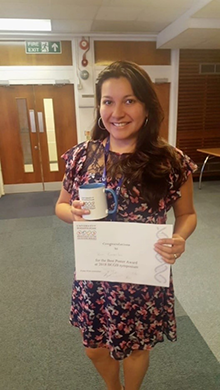 Tell us about some of your professional challenges and how you managed to overcome them?
The first challenge that I had to overcome when I started my PhD in the UK was the language barrier. It took a lot of reading, practice and hard work, however I was determined to develop the skills needed to be here and complete my PhD successfully. As a PhD student, I encountered many challenges whilst performing experiments and learning how to achieve good quality oral presentations. Time was very limited and there was pressure to understand my research area and achieve a lot within this time frame, consequently there were often moments where I felt downhearted. I overcame these professional challenges by approaching individuals who had more experience than me, taking on advice and knowledge from supervisors, mentors and colleagues who would provide very useful feedback and ultimately, enrich my career development. Regarding the setbacks I have endured in this field, I would say that not all negative results are wrong and sometimes the result you expect to get is not exactly the result you should be getting; there are so many different factors that can affect the outcome of your research and projects.
What did you like most/least about your work?
I really liked discovering new things during lab work. Everyday I had the opportunity to do slightly different tasks, so I did not have a single day that was the same as the previous day. This meant that I could find out something new all the time, particularly with every experiment that did not fail, which was very exciting! I think that the most difficult part for me was dealing with the frustration when an experiment did not work. I enjoyed my job of course, though there were times when I wish I knew the result of an experiment faster – having said that, even these moments were exciting for me and prompted a real spark to work harder to find out the answer.
Have there been any advances in your area of expertise that you are looking forward to see?
At the moment there are three available prophylactic vaccines that protect against either two, four, or nine types of HPV. However, there are not many available treatments against HPV-induced diseases and there are still many people from all parts of the world who are suffering from them. I think that treatment for those people would be required and, as it stands, we do not have sufficient knowledge on the extent to which the available prophylactic vaccines can protect people from all types of HPV. There is a real need to implement novel strategies to detect lesions at early stages of disease progression. Moreover, strategies to develop efficient screening programs so that persistent infections can be detected is essential, especially in developing countries such as Mexico. In terms of HPV, I would be looking forward to findings that elucidate mechanisms of viral persistence and how these differ amongst low- and high- risk viruses. I am looking forward to learning more about gene expression and cellular pathways (replication, DNA damage, transcription, metabolism) that HPV can regulate and how these changes drive or contribute malignant disease progression. The more we know about how a virus functions, the easier it will be to know how to contain/manage such virus and the diseases it causes, in addition to giving us insight on other viruses that may behave similarly.
If you did not pursue a career in your research area, what would you see yourself doing instead?
I think I would have enjoyed being a teacher, however, I do not see myself doing anything that is not related to science. I am not sure exactly what I would have chosen – perhaps science policy, editorial work, scientific reading, scientific translator – I do not know…but I definitely would have ended up working on something related to medical science because I find it all so exciting.