Microbiology Educators' Network
11 Mar - Online, United Kingdom
Overview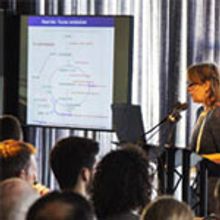 Overview
The Microbiology Educators' Network is a series of online lunchtime meetings for members involved in teaching microbiology in higher education. Delegates will hear panel discussions on various teaching-related topics offered by members and be able to discuss them with like-minded people.
With these meetings, we intend to create a forum for discussion and to share current issues and teaching practices, as well as a networking platform to expand your professional contacts.
All attendees are encouraged to communicate with each other and panellists throughout the meetings.
Programme
Programme
This webinar will discuss different methods of online assessments, the lessons learnt and positive outcomes we can take moving forward. Delegates will have the opportunity to share their practices, learn from the success of others and discuss the long-lasting impact the pandemic might have on assessments in the future.
Registration
Registration
To register your place please visit the Microbiology Educators' Network page via the link below.
Register your place

A link to the webinar will be sent a day before the event.