Air pollution is not just a human problem – it's also changing the gut of British bumblebees
14 April 2023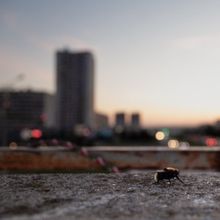 Human activity is contributing to pollution that is affecting our health. According to WHO estimates, atmospheric air pollution is estimated to cause 4.2 million premature deaths worldwide per year. Scientists and the public alike are well aware of how human activity and pollution is affecting our heath, but new research has identified how bumblebees may be caught in the crossfire.
Recent research from the University of Leicester, UK, has identified that air pollution affects the intricate web of microbes that are all around us. Populations of bees are also declining worldwide, so the Leicester team are investigating whether these two factors are connected. Researchers are now looking into the effects of air pollution on the bee gut microbiome, a community of beneficial bacteria vital to maintaining bee health.
The team are researching how air pollution affects bee's beneficial gut bacteria and microbiome composition, and the subsequent impact on bee health. Dr Hannah Sampson, first author on the study, explains "We know that pollution is a massive issue globally and we know that bee decline seems to be increasing over the last few years. Maybe they're linked, as bees are constantly exposed to these pollution particulates in the air."
The bumblebee has a delicate gut microbiome, that has coevolved with bee species over millions of years. The balance of the bacteria in the bee gut microbiome is vital to maintaining bee health, and any disruption to this microbiome could pose a risk not only to bee health but to pollination and global food security. Snodgrassella alvi is a beneficial member of the bee gut microbiome, that colonises bees' large intestine in a structure called a biofilm. A biofilm is a protective matrix that promotes bacterial colonisation on surfaces (e.g. like plaque on teeth). S. alvi is especially important as it is one of the initial colonisers of the bee gut microbiome.
Dr Sampson, part of the air pollution bacteria team led by Professor Morrissey at the University of Leicester, grew S. alvi in lab conditions and exposed it to black carbon air pollution. She found that exposure to black carbon changed the behaviour of S. alvi and the structure and formation of the bacteria's biofilm. This is worrying as any disruption to this could have knock-on effects to the overall composition and function of the bee gut microbiome.
Researchers also looked at the effects of black carbon pollution on live bumblebees. They sampled bees before and after exposure and measured the abundance of bacteria in their gut to observe any differences. The researchers found that there was a significant change in the abundance of two beneficial bacteria that are vital to the health of the bee gut microbiome.
Whilst Dr Sampson urges caution on concluding that air pollution directly contributes to bee population decline from this initial study, she is clear on the importance of understanding this interaction to learn how to better protect our planet: "More research needs to take place as air pollution is having a much greater impact than we think. Air pollution affects microbial communities. Changes to these important communities could have detrimental effects on lots of different ecosystems that affect bees and also directly affect humans."
NOTES TO EDITOR
Hannah Sampson will present her data at this year's Microbiology Society Annual Conference at Birmingham International Convention Centre, which runs 17-20 April 2023. Her talk "Air pollution's effect on microbial dynamics" will take place on Thursday 20 April 11:45am.
The Microbiology Society's principal goal is to develop, expand and strengthen the networks available to its members so they can generate new knowledge about microbes and share it, driving us towards a world in which microbiology provides the maximum benefit to society. Find out more at microbiologysociety.org.
For more information please contact [email protected]
Image: iStock/Aiyrat Zakirov
---
Image: iStock/Aiyrat Zakirov .