HPV immunisation campaign causes massive reduction in prevalence of cancer-causing virus in Scottish women
05 April 2017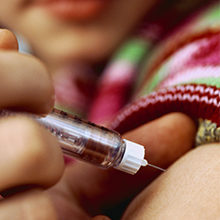 Today, at the Microbiology Society's Annual Conference in Edinburgh, researchers will show that levels of cancer-causing human papillomavirus in Scotland have dropped 90% in young women, following a vaccination campaign that began in 2008. The researchers believe that this may itself lead to a 90% reduction in cervical cancer cases in Scottish women.
Human papillomavirus (HPV) is a sexually transmitted virus that is responsible for the majority of cervical cancer cases. Two genotypes of the virus – 16 and 18 – are themselves responsible for around 80% of cervical cancers in Scotland and 70% around the world.
The team – led by Dr Kevin Pollock, Senior Epidemiologist at Health Protection Scotland – performed a longitudinal population study to measure the impact that HPV immunisation has had since its introduction in 2008.
Using patients' Community Health Index (CHI) numbers, the team could link anonymous results from women born in 1995 attending cervical screening with their vaccination records. They could then assess the levels of HPV and the genotypes present. These results were then compared with women who were born between 1989 and 1990 who were unvaccinated. In total, the study included samples collected from over 20,000 women, making this one of the largest population-based studies to examine the impact of the vaccine.
A clinically validated assay showed that only ~0.5% of women from the 1995 group tested positive for HPV 16/18, compared with 21.4% of women born before 1990. In addition, the study showed evidence that the vaccine also protects against three other high-risk HPV genotypes involved in the development of cervical cancer: 31, 33 and 45.
Dr Kate Cuschieri, Director of the Scottish HPV Reference Lab, is presenting the results at the Conference. She said: "These new findings indicate that the positive impact of the HPV vaccine may be even greater than we initially thought. Collectively, these data demonstrate the significant and continued benefits of the HPV vaccination programme in Scotland, which has achieved a consistent and high uptake of around 90% in 12- to 13-year-old girls. It is important that we share this good news to encourage continued participation in this successful programme."
Dr Pollock said: "The very high uptake of the HPV vaccine is strongly associated with these massive reductions in high-risk HPV types that are known to cause approximately 90% of cervical cancer in Scottish women. We also know that HPV 16 and 18 can cause a number of other cancers, including vulvovaginal, anal and a subset of head and neck cancers. These results suggest that this vaccine will also have a significant impact on these cancers in the years ahead."
This work, funded by the Scottish Government, is part of a larger suite of public health work in Scotland looking at the effect of the vaccine on levels of cervical lesions and cancer-related cell abnormalities.
There were 388 new cases of cervical cancer in Scotland in 2014 and the disease is the 13th most common among women in the UK. As the disease predominantly affects women aged 25–29, the researchers are hoping to observe a decrease in new cervical cancer diagnoses within the next year.
---
Image: Stockbyte/Thinkstock.