New bacteria discovered in Cornwall
12 September 2018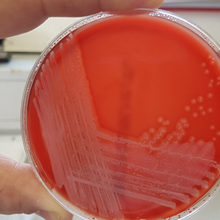 A new species of bacteria has been discovered on a man in Cornwall. The bacteria was found on a 64 year old man seeking treatment for cellulitis. When researchers attempted to find the cause of this skin infection, they found the bacteria, which although similar to others, had not been seen before
Researchers named the new species Staphylococcus cornubiensis after the medieval name for Cornwall, Cornubia.
The discovery of S. cornubiensis was reported in the International Journal of Systematic and Evolutionary Microbiology along with evidence that this is a new species.
Lead author Dr Aimee Murray said: "We now need to know how prevalent this new species is in human infections. As some related species are transferred from pets to humans, we also would like to find out whether owning pets, or any other potential risk factors, increase the chance of infection."
After collecting S. cornubiensis from the skin infection, researchers at the University of Exeter Medical School and the Royal Cornwall Hospital found that it had not been reported before. They think it is part of a group of bacteria known as the Staphylococcus intermedius group (SIG). This is a group of harmful bacteria which are usually passed onto humans from pet dogs.
The SIG group of bacteria contains bacterial species Staphylococcus intermedius and Staphylococcus pseudointermedius, which have been identified as potential zoonotic threats, meaning there is a risk of these bacteria spreading to humans from animals and causing infection.
If an infection is severe, bacteria in the SIG group are usually treated using antibiotics, however resistance to common antibiotics is increasing in this bacterial group. Severe infections usually only occur in patients with weakened immune systems, making them more susceptible and less likely to fight off the infection.
According to Doctors John Lee and Richard Bendall, the strain was discovered as the result of a project conducted at the Royal Cornwall Hospital. The hospital hopes to increase recognition and detection of bacterial infections caused by the SIG group.
Dr Bendall said: "Discovering a new species was an unexpected benefit of our efforts to improve the routine work of the department."
Peer reviewed Experimental study Cells
---
Notes to Editors:
The full scientific paper can be found on the International Journal of Systematic and Evolutionary Microbiology website here. (DOI: 10.1099/ijsem.0.002992)
Published by the Microbiology Society and owned by the International Committee on Systematics of Prokaryotes (ICSP), a committee of the Bacteriology and Applied Microbiology Division of the International Union of Microbiological Societies, International Journal of Systematic and Evolutionary Microbiology; is the leading forum for the publication of novel microbial taxa and the ICSP's official journal of record for prokaryotic names.
The Microbiology Society is a membership charity for scientists interested in microbes, their effects and their practical uses. It is one of the largest microbiology societies in Europe with a worldwide membership based in universities, industry, hospitals, research institutes and schools.
Our principle goal is to develop, expand and strengthen the networks available to our members so that they can generate new knowledge about microbes and ensure that it is shared with other communities. The impacts from this will drive us towards a world in which the science of microbiology provides maximum benefit to society.
For more information, please contact: [email protected]
This Press Release has been labelled in-line with The Academy of Medical Sciences' recommendations. For more information and the full definition of these labels, please see http://www.sciencemediacentre.org/wp-content/uploads/2018/01/AMS-press-release-labelling-system-GUIDANCE.pdf