2014 Society Prize Winners announced
03 March 2014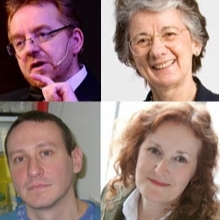 Congratulations go to the microbiologists who have been awarded this year's Society Prizes. They include Professors Rita Colwell, Nikolay Zenkin, Laura Piddock and Stephen Curry.
The Prize Winners will be presenting their lectures at the 2014 Society for General Microbiology Annual Conference. The Conference will be held at the ACC Liverpool, 14-17 April.
Prize Medal - Professor Rita Colwell (University of Maryland)
Awarded to an outstanding microbiologist who is a global leader in their field and whose work has had a far-reaching impact beyond the discipline of microbiology.
Lecture: Cholera pandemics as a model at 12:10 on Monday 14 April.
Fleming Prize Lecture - Professor Nikolay Zenkin (Newcastle University)
Awarded to an early career researcher who has achieved an outstanding research record within 12 years of being awarded their PhD.
Lecture: Multiple personalities of RNA polymerase active centre at 12:10 on Wednesday 16 April.
Marjory Stephenson Prize Lecture - Professor Laura Piddock (University of Birmingham)
Awarded to an individual who has made exceptional contributions to the discipline of microbiology.
Lecture: Understanding the basis of antibiotic resistance as a platform for early drug discovery at 12:10 on Tuesday 15 April.
Peter Wildy Prize for Microbiology Education - Professor Stephen Curry
Awarded for outstanding contribution to microbiology education and/or communication in order to stimulate interest and understanding.
Lecture: Science communication: a communicable disease? at 17:35 on Monday 14 April.
---
Image: (from top left, clockwise) Stephen Curry, Rita Colwell, Laura Piddock, Nikolay Zenkin..