A big thank you to all our members and volunteers
07 June 2018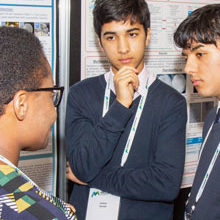 Most of our members are very aware of the opportunities that come with being a part of the Society: the grants we make available, the conferences and events we run, as well as the growing professional development programme and the networks that open up through membership.
But many members gain so much more than this from the Society. Speakers, editors, book reviewers, committee members, Champions, event helpers, bloggers and many more, all have one thing in common. They are all volunteers. They have all seen opportunities to become further involved within the Society and in doing so they are making a very significant contribution to its continuing success and the microbiology community.
This week is National Volunteers' Week and so it couldn't be timelier to extend a sincere thank you to all our members who volunteer to support the Society and the field of microbiology.
If you wanted to do that little bit more, it's easy – and it doesn't have to be a huge commitment. You could, for example, volunteer to update your entry in the Members' Directory. It will help connect you to others and build your presence in our community.
One member who's done just this is Dr Ed Wright from the University of Sussex: "I've updated my entry because I think it's a very good way through which to reach out. You don't know who's out there who could be a potential collaborator, funder, or mentor. Having a presence in the directory is another way to help make the most of any future opportunities that may be just around the corner."
Over the coming months we will be highlighting the many other ways members can volunteer to help out. The Society and the microbiology community will benefit from your involvement and you'll feel more connected as you broaden and build your transferable skills (and enhance your CV at the same time).
Please get in touch with Paul Easton [email protected] or Erin Taylor [email protected] if you'd like to find out about how to get more involved.
---
Image: One of our Champions helping out at Annual Conference 2018.