A high-fat diet could increase susceptibility to food poisoning
21 October 2019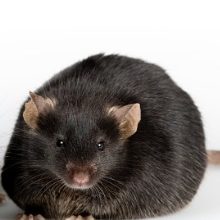 Research has found that short-term consumption of a high-fat diet makes mice more susceptible to infection with the bacterium Listeria monocytogenes. Research led by Dr Vanessa Las Heras at University College Cork investigated how a high-fat diet affects risk of contracting the infectious disease listeriosis. A high-calorie diet has previously been found to contribute to the susceptibility of conditions including Lyme disease and E. coli infection, but little research on the effect of fat consumption and the risk of infectious disease has been carried out.
Listeria has been in the news recently due to contaminated food being served in several care homes and hospitals in the UK, resulting in nine deaths this year. Listeriosis has been associated with a great variety of food products, however outbreaks are most frequently associated with ready-to-eat meat products.
Listeriosis is caused by the food-borne bacterium Listeria monocytogenes and can be fatal in people with a weakened immune system. Dr Las Heras said, "Listeria monocytogenes specifically targets immune compromised patients, including the elderly, children and pregnant women […]. However, on occasion, otherwise healthy people can become infected."
It is important to understand the link between diet and foodborne infections according to Dr Las Heras. She said, "Our work demonstrates that diet is a particularly important parameter in the context of intestinal infection with Listeria monocytogenes, being involved in the progression of infection. Our results highlight the importance of considering diet as a parameter during epidemiological studies of foodborne pathogens, suggesting the need for similar studies with different dietary patterns and different pathogens."
During the research, mice were fed a high-fat diet for two weeks, and their susceptibility to L. monocytogenes infection was compared with that of mice which had been fed a low-fat diet during the same period of time. The mice on a high-fat diet were significantly more susceptible to infection with the bacteria, a finding that was surprising to Dr Las Heras. She said, "The work suggests profound impacts on the immune system by just a short-term change in diet. In addition, a 10-fold increase in susceptibility to infection was surprisingly high.
"The world is currently facing an increase in antibiotic resistance by bacteria, a threatening challenge to global health. Our study suggests a new perspective regarding the mechanisms of host-pathogen interactions, which could originate alternative approaches to treating gastrointestinal infection."
Dr Las Heras hopes to continue to investigate how the modern diet influences health and susceptibility to infection. She said, "The next steps focus on other dietary components consumption of which is increasing in the context of the so-called Western-diet. Specifically, we are interested in carnitine, a food component present in high concentrations in meat products. In addition, we aim to more specifically explore the role of the microbiota in intestinal health in the context of infection with foodborne pathogens by examining mechanisms of colonisation resistance in gastrointestinal health and identifying which commensal organisms play a role in resistance to infection."
Dr Las Heras will present her data at the Microbiology Society Focused Meeting Microbes in Medicine: A Century of Microbiology at Trinity College Dublin. Her talk titled 'Short-term consumption of a high-fat diet increases host susceptibility to Listeria monocytogenes infection,' will take place at 11:30 on Friday 25 October.
---
Image: iStock/Georgejason.