A week left to submit your Annual Conference 2018 abstract
04 December 2017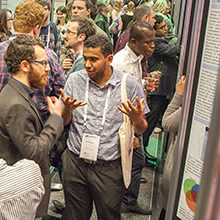 The Microbiology Society's Annual Conference is the largest gathering of microbiologists in the UK. Next year's event will take place from Tuesday 10 April to Friday 13 April at the ICC Birmingham – with the abstract submission deadline fast approaching, don't miss out on your chance to present.
Annual Conference 2018 has nearly 30 scientific sessions, covering topics across the breadth of microbiology, and workshops, forums and symposia specifically aimed to help with professional development and cross-disciplinary learning.
The Annual Conference in Birmingham will also have several opportunities for early career microbiologist members to get involved, so if you're eligible, don't forget to indicate your interest in participating in the Sir Howard Dalton Young Microbiologist of the Year Competition, or the Early Career Microbiologists' Forum Co-chairing scheme.
Eligible members chosen to present will also be able to apply for Society Conference Grants to help them get to the Conference.
Abstract submission closes at 23:59 on Monday 11 December 2017, so make sure to submit your work before the deadline.
More information about Annual Conference 2018, including tips on writing abstracts, can be found on the event's page.