Abstract submission deadline extended for Candida and Candidiasis 2021
11 January 2021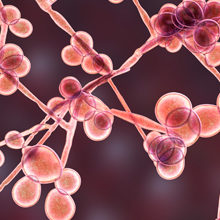 The deadline for abstract submissions for the Candida and Candidiasis 2021 Focused Meeting has been extended to Friday 15 January 17:00 GMT.
Submit your abstract now for your last chance to present at the online meeting, which takes place from 21 – 27 March 2021. You can submit your abstract on the event page.
The following key topics will be discussed at the meeting:
The diagnosis and treatment of Candida infections
Antifungal drug resistance
The genomics and epidemiology of the Candida clade
The molecular mechanisms that underpin Candida pathobiology
The immunological responses of the host to the fungus
You can register to attend Candida and Candidiasis 2021 on the event page. The registration deadline is Friday 12 March.
To hear the latest updates on the online meeting, follow us on Twitter @MicrobioSoc using the hashtag: #Candida2021.