Actions to mitigate against COVID-19 at our in-person events
17 December 2021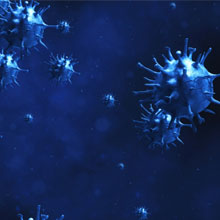 As we move closer to Annual Conference 2022 in Belfast, the Microbiology Society is taking seriously its actions in doing its best to mitigate against COVID-19 at our in-person event.
Council members and members of the Virus Division, including Paul Kellam (Council Member), Gill Elliott (Chair of Scientific Conferences Panel), Stephen Griffin (Chair of Virus Division), Jo Parish (incoming Chair of Virus Division) and Elly Gaunt (Virus Division Member), have worked with Society staff to develop a framework of mitigations for the Society to apply to its events throughout 2022, in order to ensure as COVID-secure an event as possible.

Implementation of this framework is a shared responsibility; shared between the Society, the venues we use for our events, and all potential delegates. It will be incumbent on all of us to deliver these mitigations in order for us to keep our delegates, members, and staff as safe as we can.

The framework covers the following five areas.
Vaccines
Ventilation
Masks
Testing
Spacing, particularly during communal activities such as lunch and poster sessions
More detail with be provided in the new year on these requirements and with specific instructions for Annual Conference 2022.
This is an ever-evolving situation and we are all keen to invest time and effort into getting this right so that we can return to in-person events and reap the benefits of those, while also making it as safe as we possibly can. To this end, we welcome any comments and these can be sent to Sarah Buckman, Chief Programmes Officer and Director of Strategy at
[email protected]
.
---
Image: iStock/Panorama Images.