Annual Conference 2016 invited speaker: Dr Kirsten Benjamin
09 December 2015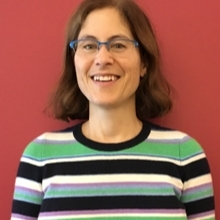 From 21–24 March, the Microbiology Society will be holding its 2016 Annual Conference at the Arena and Convention Centre (ACC), Liverpool, UK. The meeting will be attended by over 1,000 delegates from across the world, and will feature presentations from a wide range of microbiology-related disciplines.
One of the invited speakers at the conference is Dr Kirsten Benjamin, a Senior Research Fellow at the American biotechnology company Amyris. Her talk is entitled 'Microbial metabolic engineering to deliver better products for a better planet'.
Dr Benjamin gained her biochemistry PhD from the University of California, Berkeley in 1997, before undertaking a postdoctoral fellowship in genetics at the University of California, San Francisco. Prior to joining Amyris in 2007, she worked as a Senior Research Fellow at the Molecular Sciences Institute in California, USA. She directs the Biofene Program at Amyris – engineering S. cerevisiae to efficiently produce long-chain synthetic hydrocarbons.
Dr Benjamin's current research and engineering interests include development of new ways to measure and manipulate the metabolic flux from inputs (sugar and oxygen) into products.
The abstract submission deadline for next year's Annual Conference is Friday 11 December 2015. Online registration for the event closes on Monday 14 March 2016. The Society offers a number of grants to members at all stages of their careers to help with costs associated with attending the conference. You can find out more about the Annual Conference 2016 on the event's page.
---
Image: Dr Kirsten Benjamin..