Annual Conference 2016 invited speaker: Professor Stewart Cole
01 December 2015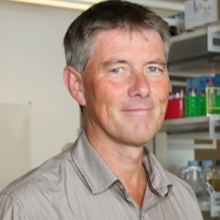 From 21–24 March, the Microbiology Society will be holding its 2016 Annual Conference at the Arena and Convention Centre (ACC), Liverpool, UK. The meeting will be attended by over 1,000 delegates from across the world, and will feature presentations from a wide range of microbiology-related disciplines.
One of the invited speakers at the conference is Professor Stewart Cole FRS, Director of the Global Health Institute at EPFL, the Swiss Federal Institute of Technology in Lausanne. Professor Cole is an international authority in the pathogenicity, evolution and genomics of tuberculosis and leprosy, and is giving a talk entitled 'Leprosy – zoonosis and anthroponosis'.
Professor Cole gained his PhD from the University of Sheffield in 1979 and has previously been Scientific Director of the Institut Pasteur, Paris, France. In 2002, he was awarded the Microbiology Society's Marjory Stephenson Prize, for his work on the 'Comparative and Functional Genomics of Mycobacterium tuberculosis'.
The abstract submission deadline for next year's Annual Conference is Friday 11 December 2015. Online registration for the event closes on Monday 14 March 2016. The Society offers a number of grants to members at all stages of their careers to help with costs associated with attending the conference. You can find out more about the Annual Conference 2016 on the event's page.
---
Image: Professor Stewart Cole..