Annual Conference 2017: fewer than 50 days away
13 February 2017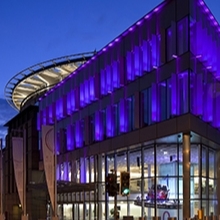 We are halfway through February and there are now fewer than 50 days to go until the start of the Microbiology Society Annual Conference 2017, taking place 3–6 April in Edinburgh.
Thank you to everyone who submitted an abstract for the Conference, and congratulations to all of those who have had theirs accepted. Our online programme is being constantly updated, so visit the Conference's webpage to find out your talk times and decide on which other offered orals you would like to attend.
If your abstract has been accepted, you will still need to register for the Conference by Monday 20 March, otherwise you will be removed from the abstract book and replaced on the programme. Remember, if you book your place before Thursday 16 March, you can take advantage of the early bird discounted rates. If you are presenting a poster or a talk, but can no longer attend you must let our Conferences team know as soon as possible.
We would also recommend that you book your accommodation and travel as soon as possible, as Edinburgh is a popular tourist destination. You can reserve your accommodation through our booking agent, Reservation Highway, and find information about your travel options to the city on the Conference's page.
---
Image: Edinburgh International Conference Centre.