Annual Conference 2023 – mobile app is now available
10 April 2023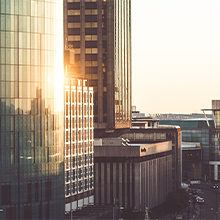 The Society is delighted to be coming to Birmingham's International Convention Centre (ICC) to host the organisation's flagship in-person meeting, and we are very much looking forward to welcoming delegates in just one week's time.
Delegates can now download the Annual Conference 2023 mobile app to set up personalised event programmes, as well as browse poster abstracts to identify posters to visit during the meeting. The app can be downloaded via mobile by clicking the below button on a phone or tablet device, or by searching 'Microbiology Society' in the app store and installing the Annual Conference 2023 event. 
To access the event app you must sign in using the same email used to register for Annual Conference 2023.
Download app on mobile
Get the latest updates on the event by following us on Instagram and Twitter @MicrobioSoc, using the hashtag #Microbio23 to join the conversation.
---
Image: ICC Birmingham.