Ashley Otter to be new Federation of Infection Sciences (FIS) Chair-Elect
11 January 2022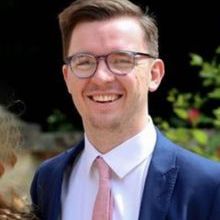 The Microbiology Society is pleased to announce that our new Federation of Infection Sciences (FIS) Chair-Elect will be Dr Ashley Otter from UK Health Security Agency. Ashley will be supporting the Society's new FIS Chair and member of Council, Dr Tina Joshi, from University of Plymouth.
Ashley's term started on 1 January 2022 and his term as Chair-Elect will run for two years, before becoming Chair from January 2024 to December 2025.
For the past few years, Dr Otter has been working within the Rare and Imported Pathogens Laboratory (RIPL) of the UK Health Security Agency. During this time, he has been involved in a wide range of research focused around clinical pathogen diagnostics. More recently, with the emergence of SARS-CoV-2, his work has focused on the research and understanding of immunity to SARS-CoV-2 infection and vaccinations.
Dr Otter will be supporting Dr Joshi, who herself is a recognised expert in antimicrobial resistance, lecturing in molecular microbiology at University of Plymouth. Dr Joshi's interdisciplinary research focuses on infection prevention and control, and molecular pathogen diagnostics.
This is an important time for the Society, which has been engaging with a range of stakeholders to further discuss how it defines clinical, health-related and medical microbiology – with a view to being sure that going forward it is providing opportunities relevant to clinical and health-related communities – and how the Society can capitalise on opportunities though its conferences, events and journal content so that these activities better reflect the wider microbiology community. Dr Otter and Dr Joshi will be crucial in helping the Society to achieve its aims in this area.
---
Image: Ashley Otter.